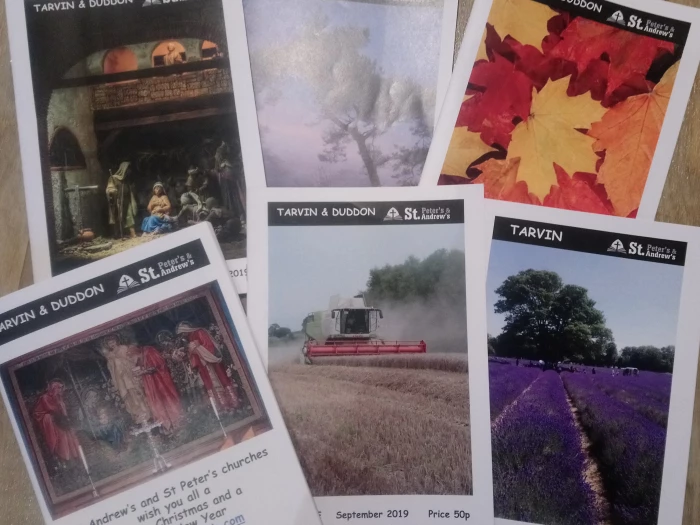 The 2200 copies of the bumper December edition of the Grapevine magazine were distributed free to every household in Tarvin , Dutton and some surrounding areas. It included a seasonal fun pull-out section and was very well received, especially in light of the Covid restrictions.
Our 2021 plans -
We would like to expand the content of the Grapevine to include more news and information from the Parish and Village Communities. Village and Community groups and individuals will be encouraged to send in reports, event news and individual contributions.
Currently the Grapevine is printed monthly from February to November ( 10 editions ) and is sold by subscription at 50p a copy. The number of subscriptions is just over 300.
In December a free edition is printed and distributed throughout the community, totalling 2200 copies.
The Grapevine not only contains information from St Andrew's and St Peter's Churches, but also monthly articles and information from the Tarvin Community Woodland Trust, the village schools, the Tarvin Community Centre, and many other community groups and organisations.
NEW from February 2021 a virtual copy of every edition will be available free to download from a variety of community websites and social media sites.
In addition the printed subscription copy will continue to be available to those who prefer to receive the Grapevine in this format and further subscriptions will be encouraged to increase the printed circulation.
If you would like to contribute to the content of the Grapevine either as an individual or to offer reports and news of community group meetings and events. Copy deadline is 20th of each month.
If you would like to advertise in the Grapevine
If you would like to subscribe to receive a printed copy of the Grapevine
If you can offer an internet platform for people to download a virtual (pdf) copy of the Grapevine
........please contact me
Paul Mercer, Editor 01829 309306 / 07904 812252
4 Fairfax Avenue, Tarvin tarvingrapevine@gmail.com