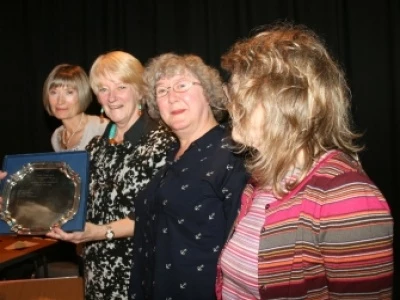 Friday the 9th January 2015 is the date for the first round of Tarvin Village Quiz at Tarvin Community Centre. The current holders are Tarvin Meeting Point (TMP), shown holding the Trophy in our photograph
With 15 teams entered for this year's Tarvin Village Quiz, the draw was made yesterday and the first contest kicks off at 7.30pm as follows:
7.30pm The Dimwits v The Community Centre
7.50pm Tarvin Parish Council v Tarvin Civic Trust
8.10pm Tarvin Meeting Point (TMP) v Tarvin Investment Club (TICs)
8.30pm St Andrew's Church v Tarvin W.I.
8.50 to 9.10 Interval
9.10pm Tarvin Tennis Club v Jessop's
9.30pm Kelsborrow Choir v The Crescent
9.50pm T.M.C. v Tarvin Bowling Club
10.10pm The Flower Club v Highest Scoring Loser
The draw for week 2, 16th January, will take place as this quiz finishes
Ed:"This is always a great night out for all the family, why not come along and support the teams as they go head-to-head. As usual there will be a bar and a raffle"