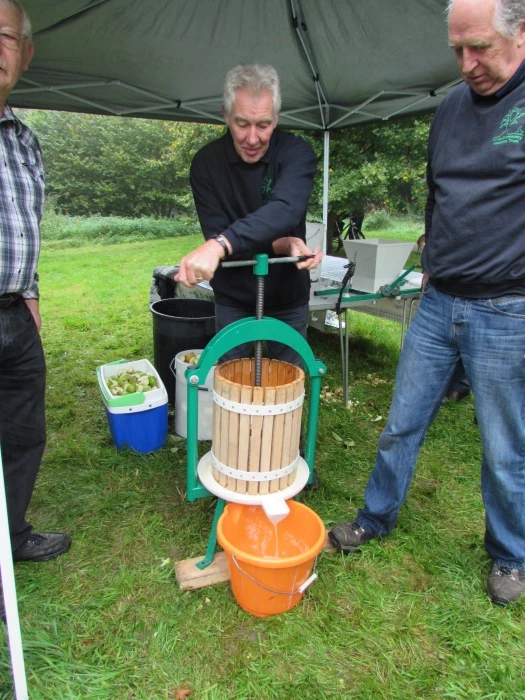 Do you remember Saturday 1st October 2016? We do. So will anyone else who came to the Apple Pressing Day in Tarvin Woodland that day. The morning began overcast but, once everything was set up, the heavens opened and it rained continuously – and hard – for most of the four hours. It could have been a disaster.
But it wasn't! Tarvin families came along, garbed in rain-proofs and wellies, carrying their bags and buckets of apples. They pressed their own apple juice, did craft work and stood, in the rain, eating burgers and hot dogs. Those who came told us how much they had enjoyed themselves. It just goes to prove the saying that there is no such thing as bad weather, only inappropriate clothing! And what the day did demonstrate really clearly was that Tarvin Apple Day will go on, whatever the weather!
This year, the apple pressing will be next Saturday 7th October and will again run from 11.00am through to 3.00pm (which we hope will be a better time for busy families) and held, of course, in the woodland behind Crossfields, in the area where our apple trees are growing and near to where the picnic bench is sited. We're hoping for a day of bright sunshine and warm breezes, to show off Tarvin's beautiful woodland
As always, of course, the object of the exercise is to produce apple juice and, with three presses working, everyone should be able to turn at least some of their own apples into delicious juice. Bring along a bagful (or a bucketful) of your surplus apples – windfalls work well (and other people's windfalls are super, if you can persuade the folk to let your family collect them!) – and, if you also bring along a PLASTIC bottle, you may be able to go home with juice for the following day. (Beware storing it, though – it will ferment, turning it into the start of alcoholic cider and the gas released will cause the bottle to split and leave you with a terrible mess!)
Tarvin Wildlife Watch again be there, with lots of 'crafty' things for youngsters to try and Cheshire Wildlife Trust will mount one of their exhibitions and answer any of your questions about local wildlife and ways in which it can be encouraged.
As ever, our aim is to produce a great family day out in Tarvin woodland at minimum cost for parents. Admission, apple pressing and the craft work will all be free of any charge. Since the event will run over lunchtime, there will also be Wally Dutton's hot dogs and beef burgers, together with both hot and cold drinks, and the prices for these will be modest- we will just try to cover our costs.
So do come along – whatever the weather – and enjoy a day in lovely Cheshire countryside, doing traditional country things, without ever leaving Tarvin village! Enjoy a really good day out with your family and your friends without leaving Tarvin. What could be better than that?