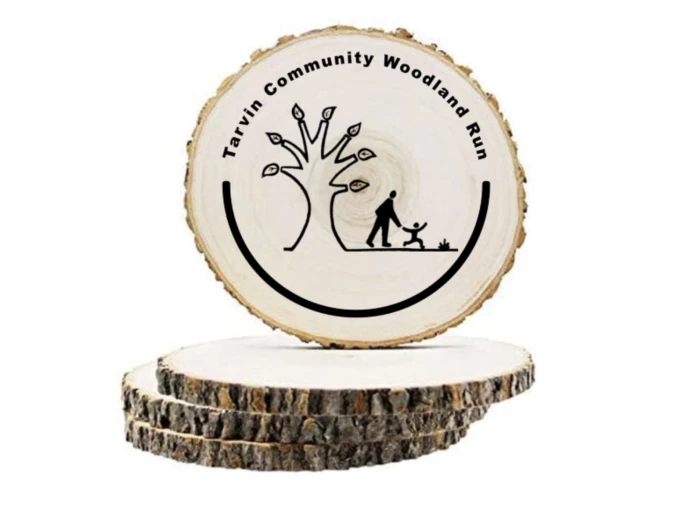 As many of you will know, Tarvin Community Woodland Trust is hosting a brand new running event on Sunday 17thSeptember 2023. There are 3 distances 5k, 2k (for Juniors) and 1k (for Infants). Every runner will receive a special log slice medal and the first 3 runners home in each distance will receive a very collectable slate trophy.
Entries are still open at http://tarvincommunitywoodland.run
It promises to be a great day for the Community to enjoy our Woodland. There will be a Hog roast. Vegan and Gluten free savoury pastries (take away as well), Barista Coffee/teas/drinks and Vintage Ice Cream. Please support the efforts of the organisers by coming along (free entry for spectators) to encourage the runners and to enjoy the refreshments on offer. There will be toilets (including an accessible toilet). Runners (who need to pre-register) can pick up their running numbers from 09:15 with the first run starting at 10:00. Trophies will be presented at 12:45.
A good deal of planning has gone into making the event as sustainable as possible so please arrive on foot or bicycle if possible. Car Parking will be available, if necessary, at the Community Centre.
We have been generously supported by many local businesses who are listed on our website. This financial support has enabled us to put on a great event. Many thanks to Tarvin Scout Group for their help as well.
We hope that individual runners will raise their own sponsorship for the Woodland, either using our link to JustGiving, or collecting the sponsorship themselves and donating it afterwards.
Anyone else who would like to support the event financially can make a one off donation at the same link to JustGiving
Volunteers are vital to help the event run smoothly. If you would like to help on the day please register at http://tarvincommunitywoodland.run/volunteer/. We look forward to seeing as many of you as possible on the day
Tarvin Community Woodland Run Organising Team
Ed: If you have been doing the couch to 5k you should be at the end of week 7 by now or later. If you haven't, but you think you could build up to 5k, (you can run for 17 mins plus a 5 minute walk), you could leap-frog the earlier part of the program and build up to 5k on the 17th.