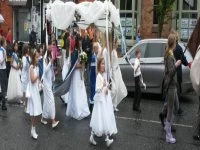 The Draw has taken place to choose the Tarvin King and Queen who will be crowned at the Village Fete in June.
The Fete Queen 2016 is Sophie Ankers and her King is Max Davenport.
The Retinue of thirty one children who will accompany the King and Queen on their procession round the village have also been chosen. On Tuesday 17th February, the parents of all the children met with the Fete Manager, Jo Richards, to talk about what the children will be wearing and what is expected of them.
The children are all very excited and can't wait for June 18th. We hope you are too. We'll keep you informed about how the plans are progressing so look out for more details about our village fun day.