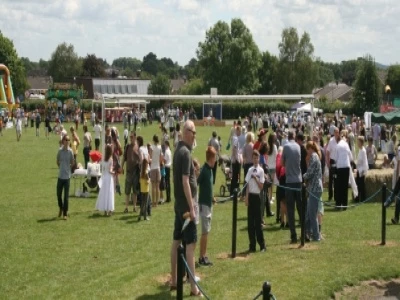 We made £161.00 from the coffee Morning on March 19TH and my thanks go to Liz Brereton for all her help on the day. Thanks to Jane, we've also been granted £500.00 from the Movers and Shakers' ACTIVate fund. I've made funding applications to Tarvin Parish council and to our two Borough Councillors, Hugo Deynem and John Leather. At the time of writing, I'm awaiting replies.
We've paid for the road closure (which is being reimbursed by Simon Harding) and the public liability insurance.
Mark Wyatt has contacted me to say that the Civic Trust have offered a donation again this year instead of having a stall.
The next fund raiser will be an afternoon tea party on the playing field on Wednesday May 25th from 3:00 to 5:00 pm.
The Procession
I've been contacted by the Tarporley Detachment of the Cheshire Army Cadet Force who have asked if they can march in our procession. This will add to atmosphere of the parade, especially as we've lost the Roman soldiers. They will march behind the band. The order of the procession will be Town Crier, Minis, Band, ACF, Brownies, Beavers, cubs (all with Standards), Fete King and Queen, their retinue, playgroup in costumes. The sashes for the king, queen and retinue are on order. Margaret Dixon has kindly offered to do the flowers again this year and Sandra Turner will decorate the canopy. We will need some new kerbside notices to replace those lost/damaged last year. Bill Turner will make those.
Stalls and Attractions
Apart from the usual stalls and attractions (we presently have 32, if none of them cancel), we'll also have the fairground rides, crazy golf, donkey rides, and the Creepy Crawly show. 16 of the 32 stalls are for charities or good causes so there will be no rental charge. We are still waiting to see if Honda cars come back this year
Refreshments and Alcohol
All the food and drinks will be on the community centre site as last year. They will sell the Pimms and also do the barbecue but they will place them as close to the field as possible. The bar will be where it was last year and the café style refreshments will be in the main hall. There will be two ice cream vans: one in the community centre car park and the other on the playing field car park