Despite the weather, out first Fete for 13 years was an unprecedented success!
A great many people put a lot of effort into the event and the organising team would like to thank all of you who made it happen.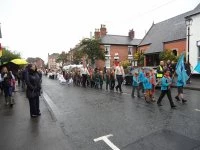 The procession was amazing and our children looked lovely! They were so proud when they saw all the people who lined the route to cheer them along. What special memories we've created for them!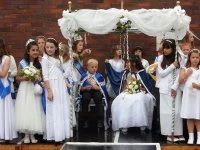 Our thanks go to the artists who performed in the concert and gave us such an entertaining afternoon and to the tug of war teams who were definitely a highlight of the afternoon!
Bob and his team of stewards did a sterling job. The heroes of the team were Steve Bebbington and Francis Scoon who were on the field from 8:00 in the morning, putting up gazebos in the pouring rain. For three hours, and soaked to the skin, they kept on smiling and helping everyone who needed a bit of assistance. Well done, chaps!
The sponge cake competition was very popular – congratulations to Jane Armstrong for her winning entry.
In the photographic competition, Zara Whyke's unusual view of Tarvin impressed the judges and won her the first prize.
We saw some very creative entries in the fruit and veg model making competition but it was Anna Jones' amazing model of St Andrew's church which proved the winner.
What a fantastic day. I can't wait for next year!
(Ed. Special thanks must go to Jo for the countless hours she put in to get the Fete up and running after such a long gap)