By Margaret Dixon - 13th January 2014 6:00am
The weather was very poor for turning out to the Ashton Hayes and Tarvin Flower Club January meeting however we were all brightened up by Anne Gater from Nantwich who chatted in a very lively and informative manner about The Language of Flowers whilst arranging 5 beautiful designs.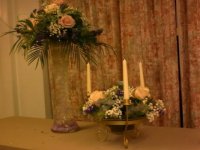 Although flower meanings were used in ancient times they were never written about until 1714. It was 1763 before we had anything printed in Britain and it was 1809 when Floriography (one to remember for crosswords- although not in my dictionary) became known as the Language of Flowers
Queen Victoria did much to promote the subject by encouraging her family and staff to learn about it. It was during her reign that Miss Carruthers of Inverness wrote the definitive book on the topic which is still used today.
A custom from Queen Victoria was the inclusion of Myrtle in all Royal wedding bouquets, this is still carried on today
Since Victorian times we have been more free to express our feelings without resorting to flowers (a good excuse for men not to buy flowers for their ladies! )
For me the evening was made even better as I won one of the designs when raffled at the end.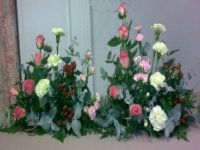 A very good start to 2014 for the Flower Club.
popular recent storiesAlso in the news