The next meeting of the Society will be in the Edna Rose Room at Tarvin Community Centre at 8.00pm
on October18th 2016.
Our topic will be 'Growing dahlias for show and for the garden' by Stuart Clensy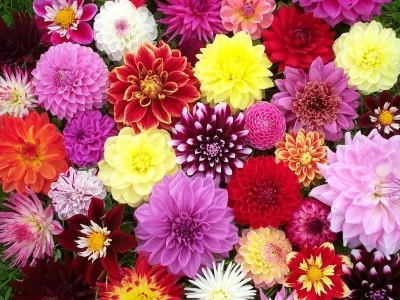 A native of the New World, the first dahlia tubers arrived in Europe at the end of the 18th century, sent over to Madrid by the Spanish settlers in Mexico. Andreas Dahl (after who the plant is named) regarded it as a vegetable rather than a garden flower, but interest switched from the edible tubers to the blooms when the first varieties with large, double flowers were bred in Belgium in 1815.
Within a just few years nearly every colour we now admire had been introduced and Victorian catalogues listed hundreds of varieties and they are currently enjoying a huge renaissance in popularity as gardeners realise their value in providing a riot of colour from mid-summer to the first frosts.
They are invaluable flowers for the summer border, for patio containers or for cut flowers, often flowering until the first frosts. With many excellent recent introductions, they offer a wide range of flower types, with very showy, double forms in warm vibrant colours and single-flowered varieties that also attract bees.
And, best of all, if you keep picking them, one dahlia tuber will produce hundreds of flowers over a season!
To regularly grow prize-winning dahlias requires someone special. Stuart Clensy of Skelmesdale is such a man. He has a nation-wide reputation and his flowers consistently win prizes at highly prestigious shows. Not all of Tarvin's dahlias will be in the same league as Stuart's but there's certainly no one better to help us all to grow better blooms!
Membership of the Tarvin Gardening Society costs very little- just £5 per year. Members then pay just £1each time they attend a meeting.
Non-members are always welcome at our meetings and pay £2 each time. A hot drink and biscuit will be served afterwards.
Our members enjoy being able to obtain a 10% discount on plants, seeds, composts, pots, etc. at Okell's Garden Centre on production of their membership card.