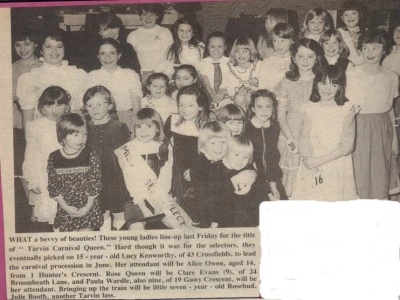 In our latest look at the History Group's scrapbook from 1984, in March from a "bevvy of beauties" the Tarvin Carnival Queen and her attendants were chosen!
Lucy Kenworthy, aged 15, of 43 Crossfields, was chosen as the Carnival Queen to lead the Carnival Procession in June of that year. Her Attendant was Alice Owen, aged 14, from Hunter's Crescent.
The Rose Queen was Clare Evans, aged 9, of 24 Broomheath Lane with Paula Wardle, also aged 9, of 19 Gowy Crescent as her attendant.
Bringing up the train was 7 year old Rosebud, Julie Booth also of Tarvin.
Ed:"Can you recognise yourself from the photo? (click on photo to enlarge)
Let us know via email editor@tarvinonline.org or via our Facebook page."