By Tarvin History Group - 15th December 2016 6:00am
Tarvin History Group's scrapbook for July 1988 includes a photo of the Dean of Chester, the Very Reverend Dr Stephen Smalley, trying his hand at handbell ringing after opening St Andrew's Parish Church Fete.
With him in the photo are his wife, Susan, son Jovian, the Vicar, the Rev Alan Blackhouse, and, Dick Nightingale
Click on photo to enlarge
Stan

Dicky Nightingale was a lovely fella!
popular recent storiesAlso in the news
Wed 16 Sep 6:00am | hits: 965
We have become aware that a number of residents have raised concerns with both the Parish Council and CWAC concerning the development activity on the field shown in the photo.Planning permission was granted under Planning Application 19/01028 /FUL 19/01028/FUL for the land At Tarporley Road Tarvin. The application is in the public record on the CWAC Planning Site for viewing...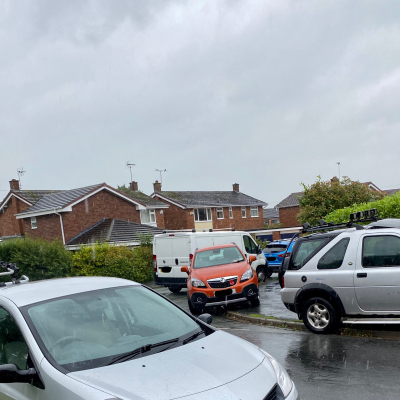 Fri 11 Sep 6:00am | hits: 719
We received this from a concerned parent and it certainly made us think:-"Schools back and so is the inconsiderate parking of parents."So school reopened fully last week and the hustle and bustle of drop off and pick ups has begun again. As a parent of a child who attends Tarvin primary school I understand the pressures of the morning routine to get the kids to school on time and...
Sun 13 Sep 6:00am | hits: 453
We received this from a resident today:"I had a strange experience when going into the Tarvin Co-op this morning. I was just putting my mask on before entering when a woman, probably 40ish came out of the doors not wearing a mask and told me to take my mask off as I didn't need to wear it in the shop. For a moment I was taken aback. Had the Co-op been declared a risk...