We are very fortunate in Tarvin with so many beautiful gardens. The cream of the local talent put on a blooming fantastic show at this year's Horticultural Show, run by the Tarvin Gardening Society.
From knee-high runner beans to onions the size of grapefruit; beautiful sweet peas; vivid exploding dahlias and floral displays that would not look out of place at Chelsea. The range of talent was fantastic.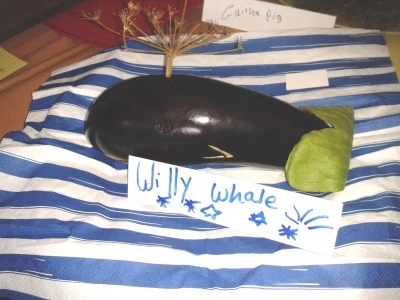 Fierce family rivalry was evident in the brilliant children's competition with the Deakin, Hufton, Colonso, Mufter and Mulligan families all taking top honours. Clearly Tarvin will be blessed with horticultural talent for years to come. The children's best in show eventually went to Rosie Hufton for her Willy Whale based on an aubergine see photo.
My attention was also drawn to the cookery entries. A magnificent array of biscuits, cakes, jams, marmalades and curds was displayed. This included three very tempting Tarvin Bun Loafs. I never knew we had a local delicacy.
After viewing the exhibits the tea room where tasty home made cakes and cream teas were being served was the next stop. This proved to be very popular with visitors and exhibitors alike and many discussions could be heard comparing the various exhibits. The kitchen team was headed by Chris Slatcher and Barbara Ball who had both been working on the marking side since 8.00 am and then put a tremendous effort into organising what turned out to be a very successful tea room.
The final award, "Best in show" was won by Edward Elliott for a magnificent, colourful hanging basket primarily made up from begonia and lobelia. Edward's passion and talent for gardening was evident and he makes about 10 of these baskets a year. He puts his success down to hard work – "spending all his free time in his garden" see photo.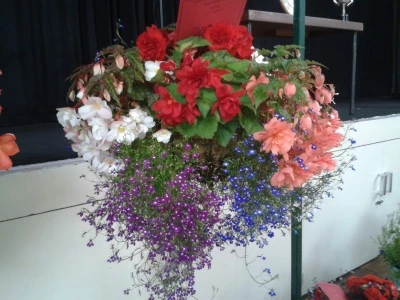 At the close the show organiser Errol Slatcher said "the poor weather earlier this year had made it difficult to grow flowers and vegetables worthy of exhibiting. Despite this, the turn out was fantastic, especially the children's exhibits".
If you are interested in coming along to Tarvin Gardening Societythey meet on the third Tuesday of the month at 8pm the Community Centre. Non-Members are always very welcome.
( Please send in your favourite recipes for Tarvin Bun Loaf to editor@tarvinonline.org Ed).