April 2014
Here are the questions from the Tarvin Imp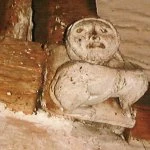 1. Which work, first published in 1848, ends with the call for "Working men of all countries, unite!"?
2. Which London theatre is the home of the Royal Ballet?
3. Which comic novel published in 1889 has the sub-title "To Say Nothing of The Dog"?
4. Which chemical element takes its name from a Greek word meaning 'stone'?
5. Which English railway pioneer was born at Wylam in Northumberland in 1781?
Sorry no prizes just the satisfaction of knowing the answers!
Check out the website at the end of April 2014 for the answers