December 2013
Here are the questions from the Tarvin Imp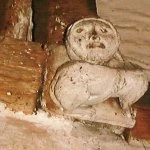 1. In Homer's "Odyssey", what was the name of Odysseus's faithful wife?
2. How many faces has a cube?
3. In the film "The Godfather: Part II" who played the young Vito Corleone (the character played by Marlon Brando in the original film)?
4. What is pargeting?
5. Which composer's only opera was "Fidelio"?
Sorry no prizes just the satisfaction of knowing the answers!
Check out the website on the 20th December 2013 for the answers