November 2014
Here are the questions from the Tarvin Imp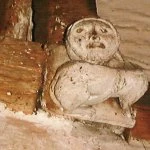 1. Where in England is the Baltic Centre for Contemporary Art?
2. In the name of the telecommunications company EE, what do the initials EE stand for?
3. Which Shakespeare play is mainly set in the Forest of Arden?
4. In which city can you see Michelangelo's "David"?
5. Who challenged the incumbent Margaret Thatcher for the leadership of the Conservative Party in November 1990?
Sorry no prizes just the satisfaction of knowing the answers!
Check out the website later in November 2014 for the answers