Here are the November questions from the Tarvin Imp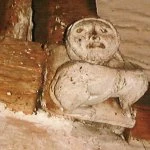 1. What is the capital of the Canadian province of Nova Scotia?
2. In Greek mythology who was the god of the sea?
3. Who is the patron saint of music and musicians?
4. Whom did Margaret Thatcher replace as leader of the Conservative party?
5. In which English county is Hook Norton, home of the brewery of that name?
Sorry no prizes just the satisfaction of knowing the answers!
Check out the website on the 26th November 2013 for the answers