October 2013
Here are the questions from the Tarvin Imp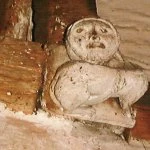 1. On which racecourse is the classic horse race the St Leger run?
2. Give years for the life of the explorer David Livingstone?
3. Which UK supermarket chain is part of the John Lewis Partnership?
4. Who is the heroine of Jane Austen's "Mansfield Park"?
5. Who was the female star of the 1973 film "The Way We Were"?
Sorry no prizes just the satisfaction of knowing the answers!
Check out the website on the 26th October 2013 for the answers