As a Tarvin resident I was very disappointed to read an article from the Parish Council on Tarvinonline that suggested that "The Parish Council was dismayed, though by no means surprised, to learn that Cheshire West and Chester Council have decided to cease allocating 20% of the New Homes Bonus to the parishes where the new homes are built. This means that, for Tarvin Parish, the £29,000 received from the completion of the new homes built since 2011 will be all that they receive."
I would have hoped that we wouldn't roll-over and just accept the situation especially as our Borough Councillor has tweeted that Tarvin has lost" £100,000 funding as a result of the CWaC decision!"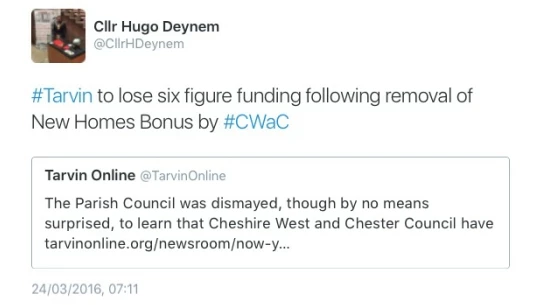 Remember the New Homes Bonus was a "reward" to the village in some way to compensate us for the extra houses being built.
Just think what the Parish could have done with £100,000!

My suggestions would include:
New signage for every street in the Parish, not just 3 or 4 renewals as at present
Provision of changing facilities at the George V playing field to encourage more use of the field
Provision of speed guns
Pay for another street cleaner to cover the whole area not just the playing field
I'm sure you have your own "favourites" why not provide your suggestions either via our Facebook page or our comments button below