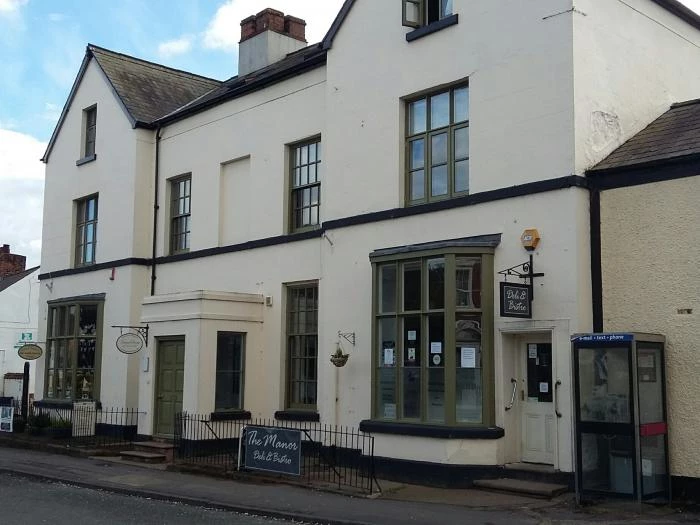 The Manor House in Church Street has to our knowledge never been a manor house or has one stood on that land.
It was in fact built in the middle of the 19th century to house the junior department of the boys' school at Tarvin Hall. This school at Tarvin Hall was opened in January 1843 by John Brindley and by 1851 was flourishing with 90 pupils attending so he needed to expand. The Lower Hall was therefore built. This was a "Preparatory School for pupils between 7 and 12 years of age, at 40 guineas a year and each pupil would have a separate bed" It opened in 1852 under the supervision of Rev. E.H. Price. In 1853 Dr. John Brindley went bankrupt but the prep school continued until 1855. At this point they transferred to Parkgate where it became known as Mostyn House School. This school was to have a longer history and has only fairly recently closed with executive houses and luxury apartments now on that site.
To return to Tarvin and our vacated building opposite the Church. The gymnasium which was built for the school was where Manor Court Veterinary Centre is now. When this building was renovated the original wall bars were still in place.
We are not sure what the Manor House was used for between 1855 and 1874. In 1850 a "Post Office Receiving House" had been established in Tarvin and by 1874 James Leach was postmaster. The 1881 census records that James Leach, his wife Mary and daughters, Charlotte and Mary were living at the Manor house. His wife is shown to be a milliner and by the 1901 census the 2 daughters are also milliners and a domestic servant, Edith Dodd aged 17, is also living with them.
In the talk given to Tarvin Civic Trust in 1981 by Miss Radcliffe from Pool Bank House she recalls her life in Tarvin over 70 years and told us "the Misses Leach used to keep a very select little shop above the post office for hats and ribbons" Miss Radcliffe also recalled that "they had a telephone exchange there too"
The Diamond Jubilee of Queen Victoria in1897 was celebrated in Tarvin with a great procession and tea for 800. The adults ate at the Manor House whilst the children went to the Public Hall. There is a photograph in "Reflections of Tarvin" (sadly no copies are obtainable but it is in the Library in the village) of David Lloyd George, leader of the Liberal Party, addressing a crowd whilst electioneering in 1929.
By 1939 Mrs Lily Wright and her husband were running the Post Office which still incorporated the telephone exchange at the Manor house. In 1975 plans were approved for conversion of the building into a dwelling but this didn't take place. By 1997 the telephone exchange had moved to the purpose-built building on Tarporley road and the Post Office had moved to its present location in the High Street.
Since then the building has been used for a variety of enterprises ranging from video rentals to carpet sales and a travel agency. The central section was used by a photographer for many years. In 1993 Ian Littler opened his pharmacy there before transferring to the High Street a few years later. Antique Fireplaces have occupied part of the building for a long time and Michael Jessop moved from Gunnery's to open his delicatessen in the part which had been the post office. This shop has now become "The Manor"
If anyone can add to this history we would be pleased to hear from them.