By Tarvin Webteam - 13th January 2014 6:00am
Week 1 of the village quiz was very well supported and the Quiz Organiser Margaret Dixon ( aided by Kath & Jill in compiling the questions) thanks the village for this interest. Stuart McNeill was his usual cheery self and did a good job, once again, as Question Master.
All the matches were close with the one between The Women's Institute and the Outsiders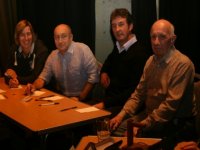 ending in a draw. There was a sudden death play-off which took 3 extra questions to each team before The Women's Institute emerged as the eventual winners.
The first contest of the evening between the Parish Council and St. Andrew's finished with 1 point only between the teams and the Parish Council going through to the next round.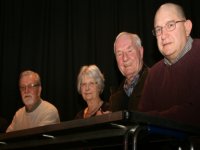 The match between Tarvin Meeting Point and the Civic Trust was high scoring with both teams going through to the finals- one as the winners and the other as highest scoring losers.
We had light hearted quips from the teams when Michael Jessop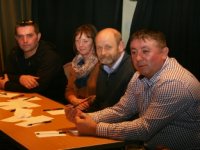 congratulated the Methodist Church team on knowing (or guessing) a question about beer brewed by Belgium monks. Whatever the reason the Methodist Church went on to win the contest.
Unfortunately, one team, Miscellany were unable to enter this year. They have entered the quiz every year since it began and their name has been on the trophy many times.
We had 2 new teams who have not taken part before, the Community Centre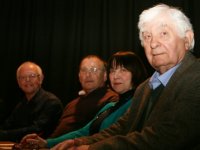 and Tarvin Investment Club and the Quiz organisers were pleased to welcome them. They met with mixed fortunes as the Community Centre lost to the Tennis Club who were in top form and the highest scorers of all teams on the night.
Tarvin Investment Club ( better known to its members and the bank as the Nervous TICs) came through to the 2nd round after beating Bowling Club A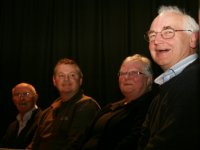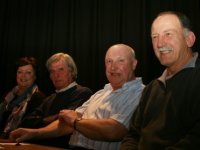 It was not to be the year for the Bowling Club as their other team entered as Bowling Club Team B were defeated by Kelsborrow Choir.
An interesting but light-hearted evening was enjoyed by competitors and supporters alike.
We hope the final rounds on 17th January will be equally successful.
The initial matches are-
Parish Council v Women's Institute 7-30
Tarvin Meeting Point v Kelsborrow choir 7-50
Tarvin Methodist Church v Tennis club 8-10
Civic Trust v Tarvin Investment Club 8-30
(Ed. In case you were puzzled by the team photos we thought we would only show the teams that failed to make it through to Week 2. More pictures of the other teams after next Friday's Quiz. Our thanks to Margaret for the information on the 1st week's contest and to Kath Miles for the photos)