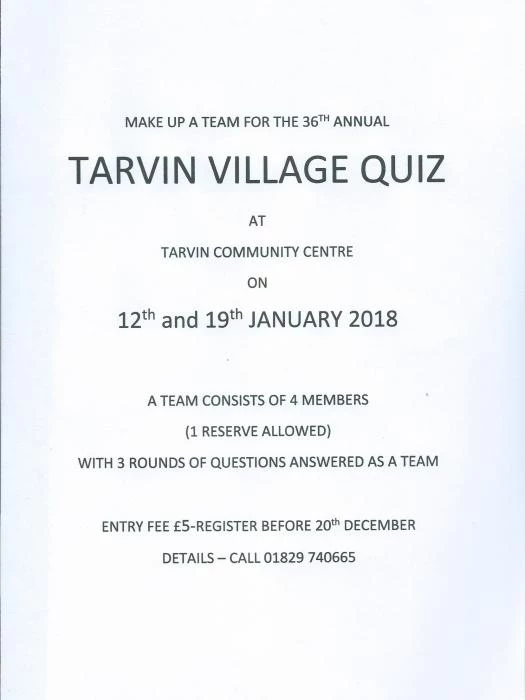 The village quiz is quite unique to Tarvin and is now in its 37th year and held each January since its inception in 1982. It is open to village organisations , families and friends within Tarvin and outlying villages. Entrance fee is £6 per team and entrance to the quiz evening is £2 with team members admitted free.
Teams of four plus one reserve compete on the stage of the Community Centre two teams at a time sitting at separate tables with the question master, scorer and time keeper between. Microphones are on each table so that the audience can hear the answers.
Each inter team quiz last about 20 minutes and comprises 3 rounds.Round 1 is 4 questions to each team in order, for 2 points for a correct answer and if incorrect is offered to their opponents for 2 points per correct answer. Round 2 is a quick fire round to answer up to 12 questions in a set time.
Round 3 is similar to round 1 but has six questions to each team in total.
Ideally we hope for 16 teams as this competition is a knockout competition which means that the 8 winning teams progress from Friday 11th January to the final evening of the 18th January.
The original 1982 shield awarded to the winners to hold for one year was full of the winners names and now we compete for the Eric Plenderleith Silver Plate.
As of today 19th December we have the following team registered to enter.: The George Heath Foundation, Tarvin Methodists Church, St Andrews Church, Tarvin Parish Council, Deansway Crescent, The Nervous Tics, Ashton Hayes and Tarvin Flower Club, and Tarvin Meeting Point and of course Tarvin Bowling Club 2018 winners.
We are hoping to enrol another 7 teams before closing date which is 31stDecember and the draw will take place in early January when all teams will be advised of their opponents and time of their appearance on stage at the Community Centre.
Several of the teams of earlier competitions have opted out quoting age problems so where are the younger Tarvin quizzers who live in Tarvin or recently moved into Tarvin. You would be most welcome to enter the competition and keep the quiz going for another 37 years.
The Community Centre needs your support and it is such functions that allow us to further enhance the Centre , so come and see the latest new ceiling with far superior Led lighting giving a much improved system to cater for the different requirements of the hall
For more information call Bryan Evans 01829 740781 or Margaret Dixon 01829 740665