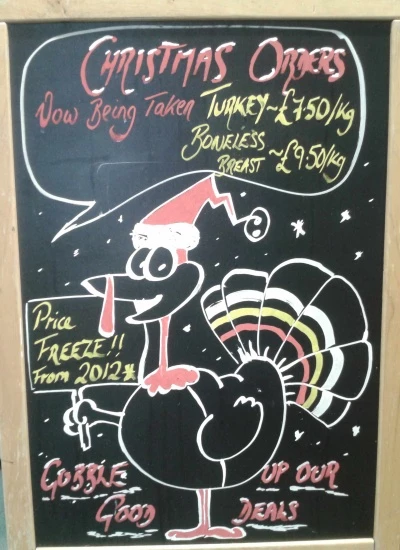 Gobble up the deals at Sheaf Farm this Christmas.
Sheaf Farm are gearing up for a busy Christmas. As usual we are anticipating a really busy run up to the Festive Season so we're taking orders now for your special Christmas food. We can guarantee you will get all your orders before Christmas as long as you book your meat before mid-December.
We have also kept our prices the same as last year. Our turkey is £7.50 per kilo or if you are a fan of the white meat we are doing boneless turkey breast for £9.50 per kilo. If you are a fan of game we are also selling pheasant, grouse, rabbit, duck and venison. Also you can get your seasonal favourite of ham and the beef ribs are already proving to be popular.
So come along to the farm in the next couple of weeks to place your order and collect the order before mid-day on 23 December. We are not normally open on Mondays but we are opening on Monday 16 December too.
See our Directory entry for contact details.