The February Tarvin W.I. Meeting took place on Wednesday 24th at 7.30 pm in the Edna Rose room at Tarvin Community Centre and President Irene Wilkinson duly opened the meeting and welcomed everyone before continuing with this month's business.
BUSINESS
The CFWI Resolution for 2016
Margaret Mathews, Tarvin WI secretary, discussed the 2016 resolution and welcomed comments from all members present. The members voted in favour of the resolution and further discussions will take place at White Friars on 14th April and will be attended by Margaret.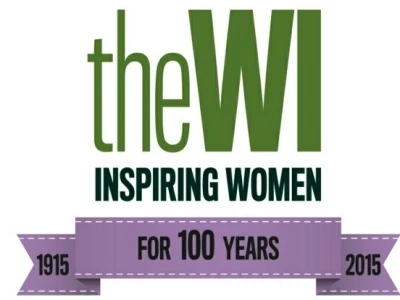 W.I. Quiz
Irene was delighted to inform members that the Tarvin W.I. Team came first in the recent W.I. Quiz. At Tarvin Community Centre. Ann Lilley, Alison Holden, Nancy Williams and Lyn Barry were congratulated on their success. The team will now go forward to the final which is to take place in Comberbach on 1st April.
Coffee Morning
Irene thanked everyone who attended the recent Coffee Morning and thanked the members and friends for their support. The money raised will make a good start to our year.
'Clean for the Queen' Initiative
It has been decided that Tarvin W.I would help with the Clean for the Queen Initiative by supporting the Parish Council with their effort. The Parish Council representatives will be at Tarvin Community Centre on Saturday morning 5th March at 9.30 am and advised members who wish to help to please bring their own gloves. The rest of the equipment will be supplied by the Parish Council who will allocate an area to be covered.
Writing Group
A new welcome addition for our regular group activities is the formation of a new Writing Group being run by Nancy Williams. The first meeting took place in February and Nancy invited members who may be interested to come along and see what they do.
FUTURE PLANS
The Luncheon Club
The Luncheon Club is proving popular and the 18 members who attended in February enjoyed the visit to The Hornsmill, Helsby and a pleasant time was had by all. The next luncheon club is to be at The Royal Oak, Kelsall on Monday 14.2.16 at 1 pm.
Survey Results
After a recent survey it looks as though we should have an exciting year to look forward to again after a positive response to the list of suitable outings and venues. Afternoon tea on an East Lancs train appealed to many followed closely by theatre trips to see musicals and plays.
W.I. Plans for Tarvin Summer Fete
Alison Holden, the Craft Group leader, and Tarvin W.I. Committee are in discussion about plans for the W.I's involvement in the forthcoming Tarvin Summer Fete.
W.I. Cheshire News Events
Irene updated members about the many forthcoming activities mentioned in February's W.I. Cheshire News and should they wish to participate in any of the events.
MY YEAR AS LORD MAYOR: JILL HOULBROOK, FORMER LORD MAYOR OF CHESTER.

We were delighted to welcome our speaker for this evening, Jill Houlbrook, former Lord Mayor of Chester. Jill quickly brought us up to speed with the history of Mayors of Chester. She informed us that early records indicate that there has been a Mayor of Chester since 1237/38. The position of Mayor was enhanced in 1992 when the Queen granted Lord Mayoralty status to Chester. Chester's first Lord Mayor in 1992 was Councillor Susan Proctor and the first woman Mayor of Chester was Phyllis Brown in 1938/39.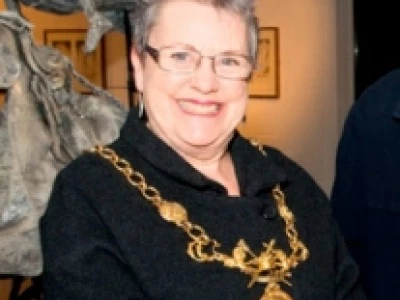 Today of course, the position is one of a ceremonial nature and Jill has attended numerous events, sometimes, three in one day. Her daughter, Rachel Walker filled the position of deputy Lord Mayor.
Jill experienced an exciting year and it sounds as though her feet didn't touch the ground. Talking about feet, would you believe that this lady wore pink flowered Doc Martin's with her ceremonial robes when she was called on to attend events that required walking boots. What a wonderful sight! Jill talked with enthusiasm, inviting questions from members and clearly thrived on her experience and it will be a year she will never forget. Vote of thanks: Alison Holden.
THE EVENING DRAWS TO A CLOSE
A welcome cup of tea/coffee and biscuits awaited us and members settled down with friends, old and new, to make forthcoming arrangements before setting off home.

THE DATE OF THE NEXT MEETING
The date of the next meeting is Wednesday, March 30th at 7.30 pm in the Edna Rose Room at Tarvin Community Centre where new members and visitors are always welcome to come and join us.
The Speaker's topic is 100 Years of Daffodil Growing and Life at Foxwist Farm.