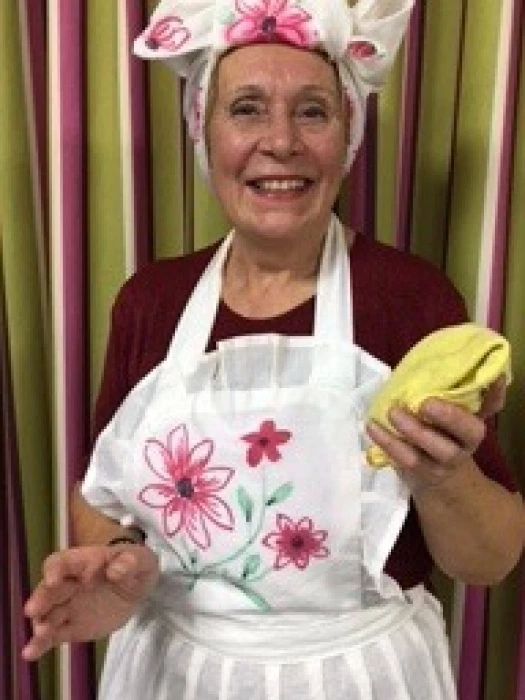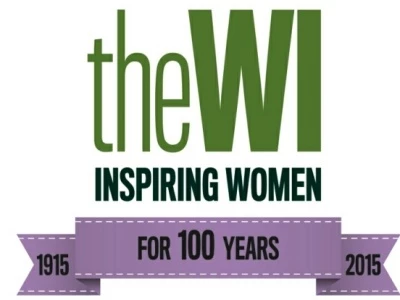 The monthly Tarvin WI Meeting took place on Wednesday 26th October at 7.30pm in the Edna Rose Room at Tarvin Community Centre. Our President Irene Wilkinson welcome everyone including three new visitors and new member Maureen Walsh. She thanked Janet Shuttlewood for the table flowers and tea hostesses for the evening, Frances Woollam, Angela Waldcock, Janet Shuttlewood and Pamela Gunnery. After Safety Notices were carried out we sang Jerusalem before continuing with this month's business.
OCTOBER 2016 EVENTS
Angela Rippon at the Autumn Council Meeting
A number of members were delighted to have the opportunity be at the Autumn Council Meeting where they listened to Angela Rippon. She was a brilliant presenter, she kept her audience enthralled as she recalled her varied career in Television and her pleasant memories of celebrities she had the pleasure of meeting.
ANY OTHER BUSINESS
Fashion Show by Imaginations Friday 30th June 2017 in conjunction with Tarporley Hospital.
Members were advised to put the date in next year's diary as it is a night not to be missed.
More details to follow nearer the time.
.
SPEAKER: JEAN FINNEY – THE LIFE AND TIMES OF JOYCE GRENFELL
This evening's speaker was Jean Finney who is an accomplished singer/songwriter and has worked on radio many times. She is the Nanna in the Shreddies advertisement and has even had her 'left arm' captured in Hollyoaks she told us. She has also worked on Fred Olsen Cruise Ships and is booked on a five week cruise on the Boudicea next October teaching the ukelele.
Those of us who remember Joyce Grenfell with fond memories were not disappointed. Jean gave some members background knowledge of Joyce Grenfell describing how an upperclass lady moved accidentally into the theatrical world by being a natural mimic and people watcher. Many will remember her from the 27 films she made, in particular, the St Trinian films. She was famous for her catchphrase "George, don't do that" and monologues in which Joyce would tell a one sided story and the audience would have to imagine the rest. Using props to inspire imagination Jean delighted us with various Joyce Grenfell monologues such as "The Worrier", "The Enigmatic Smile" and her own "The Cocktail Party" and renditions of "I'm Going to See You Today", "I don't 'alf Love You" and "Old Thyme Dancing" (Stately as a Galleon). A confident and magical performance that everyone couldn't help but enjoy. Nancy Williams gave the vote of thanks
The Photo is Jean Finney as "The Worrier"
THE EVENING DRAWS TO A CLOSE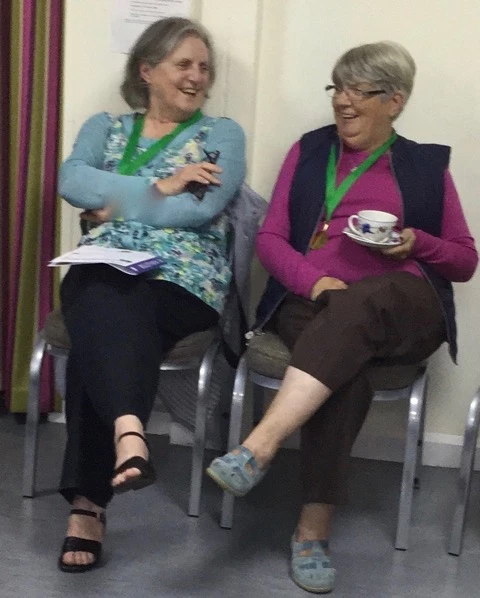 A welcome cup of tea/coffee and biscuits awaited us and members settled down with friends, old and new, to make forthcoming arrangements before settling off home.
DATE OF NEXT MEETING.
Wednesday November 30th at 7.30 pm in the Edna Rose Room at Tarvin Community Centre where new members and visitors are always welcome to come and join us.
Annual Meeting followed by 'Songs for all Seasons" Ian Lloyd.