Despite having to rearrange the 28th February monthly meeting due to bad weather, the meeting was very well supported. President Margaret Matthews warmly welcomed old and new members and visitors before proceeding with the business.
Events during February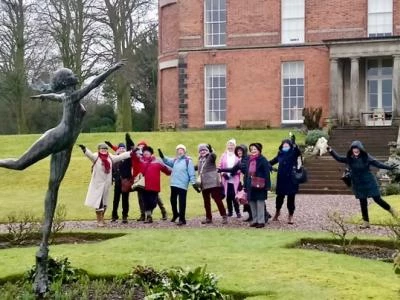 During February members visited Rode Hall which proved to be a good day out despite the inclement weather. We were impressed by the display of snowdrops and found refuge in the warm café for delicious soup, homemade cakes followed by a visit to the local Artist Exhibition on site. Also during the month, the lunch at The Rising Sun was very well attended with members enjoying the convivial atmosphere.
Margaret congratulated our WI quiz Team, Ann, Alison, Heather and Nancy. They came joint 2nd with Norley WI and we all wish them good luck when they go forward to the WI County Final.
Future Events

In addition to our regular activities Members have a number of events to look forward to in March. The Luncheon Club will meet at the Ring o' Bells in Christleton and later in the month a Guided Tour of Parkgate followed by lunch at the Boathouse.
In April, there is a trip to see Hairspray at the Liverpool Empire plus a Literary Lunch at The Cheshire View with speaker Crime Writer Sarah Ward.
Visiting the Terracotta Warriors in the Liverpool Museum is a must and is eagerly awaited.
Speaker: Normal Jarvis J.P, M.B.E

Maureen Walsh introduced tonight's Speaker: Norman Jarvis J.P, M.B.E. who stepped in at short notice when the arranged February speaker was unable to reschedule. Despite not being able to show his video he entertained us with his account of the St. James' Palace ceremony. He explained the procedures and the protocol that make the occasion so special. For example, on meeting a member of the Royal Family it is expected that you wait until the hand is offered before you shake it. Also security measures were in place everywhere, even checking the London taxi that dropped off Norman and his family at the Palace gates. Members enjoyed looking at the photo album, the letter of nomination and Norman's prized medal. His M.B.E. was awarded for his 47 years' service to the Institute of Advanced Motorists. These ranged from giving lessons to new disabled car owners, delivering cycling proficiency lessons and instructing 6th formers in safe driving. We were most grateful to Norman. It isn't every day that Tarvin WI is visited by someone whose name appeared on the 2012 Honours List.
Later, we all enjoyed participating in a fun team quiz and much laughter was heard and members were delighted to find that cake was being served with our tea. This part of the evening is a great time to catch up with each other, chatting and making arrangements and the meeting finished on its usual high note.
Please feel free to join us at our next meeting on Wednesday 28th March at 7.30 pm. The Speaker for the evening will be Robert Pepper to talk to us about Canine Partners – assistance dogs for the disabled.
Further information Web: Tarvinwi.co.uk. Email Tarvin.wi@gmail.com