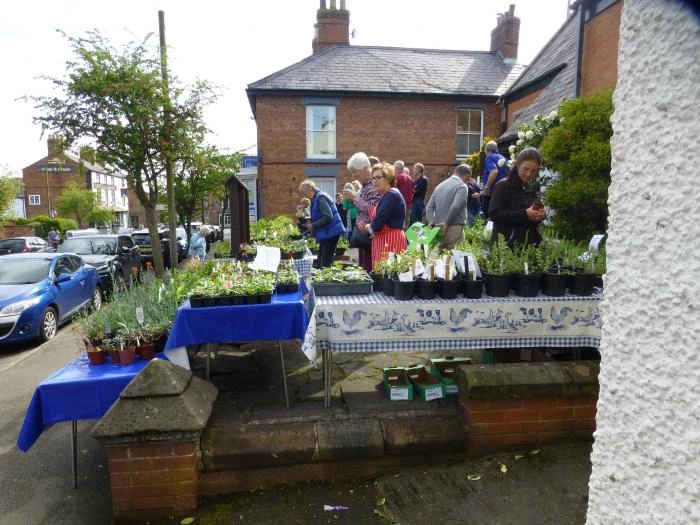 What an amazing collection of plants!

Thursday, 11th May was the date on which we asked for the members of our Woodland Trust to bring their plants to Chapel, ready for the Annual Plant Sale on the Saturday. Trustees put up the tables in readiness during the morning and then brought their own plants round, so that they could spend the afternoon helping others.
At 2pm, the tables had some good plants on them, but they were by no means full. Then the influx came – person after person with trays, boxes and bags of plants, until there was no longer any room on the tables and they were being "parked" on the floor and on chairs. We now have conifer trees, fruit bushes and plants, vegetables of all descriptions, bedding plants, a huge range of perennials and an amazing collection of herbs. Oh, yes – and we have a truly vast collection of tomato plants, in a variety of sizes from cherry up to beefsteak. Some years, we have had only one or two tomato plants to sell, but this year, we have dozens upon dozens! If you haven't bought yours yet, then Saturday morning is your golden opportunity.
Saturday, 13th May at 10am is the time that the sale of plants starts on the Chapel forecourt. At the same time, there will be a raffle (1st Prize – a £25 voucher, courtesy of Okells Garden Centre) and there will be Trust clothing, all with the Trust's logo embroidered on it, on sale. At the same time, the Chapel will be offering Tea, Coffee and Cake, together with their justly-famous bacon baps! It is always a wonderful morning! We have even had passengers on the 84 bus get off and come to see what they could find – going away happy people with carrier bags bursting with bargains.
DON'T MISS IT – Tarvin Methodist Church

between 10am and 12 Noon

on Saturday., 13th May.

SEE YOU THERE!