Ed. We received the following letter from a local mother who wrote to Tarvin Scout Leaders to thank them for the experience her son had in our Scouting Organisation. She kindly agreed for us to publish this both to thank publicly the Leaders involved and highlight the positive impact the Scouting activities had on her son. This says so much about our community and the volunteers who give their time so freely.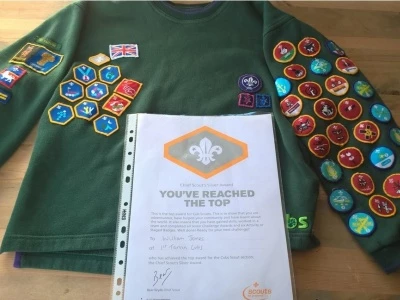 " I wanted to thank you properly for the opportunities you gave during our time in Cubs and explain to you what a difference it has made. Should you ever question what you do and why you give up so much of your time I would hope that this would be one of your reasons why."
"When he started in scouting 4 years ago he was an incredibly shy, nervous child who struggled with change and trying new things. He transferred into Tarvin Beavers from another colony when we moved house. This was a massive change but Sandra, Daniel and the Beavers were so welcoming and he made lots of new friends who he later joined at his new school. Dealing with this change in Beavers before school and making so many new friends made the change of schools much easier than we had expected and he settled in well."
"When he moved up to Cubs he was still wary of new experiences and feared anything that he hadn't done before. He was also a very routine based child and struggled to face things that he hadn't been previously prepared for. That is where Cubs was the greatest help. Arriving on a Monday evening not knowing what activity they would be doing challenged his reliance on preparation and routine in a safe an manageable environment, with new experiences intertwined with familiar activities and procedures. With your support and encouragement he quickly gained confidence to try no end of new activities, sports, crafts, community events, camps etc. He went from being a shy child who struggled socially to one who welcomed in the next cohort of new wary Cubs and worked hard to make them feel welcome as he had been made to feel at the start."
"Becoming a 'sixer' was a real highlight and again gave him such a boost, reinforcing his confidence in his own social abilities. He absolutely loved his experiences on the two camps and the hikes as well as the many trips and community activities he was involved with. Finally receiving his Chief Scout award simply put the top hat on it."
"He has now entered Scouts with no fear of change or anxiety around the unknown. He will try anything, talk to anyone and his attitude generally is one of lets have a go. I am sure we have Scouting to thank for that.He is so proud of all that he achieved at Cubs and is incredibly thankful to you and the team for all that you have done, as am I".
" If you ever stop to question why you bother please remember what a difference you have made to him and no doubt so many more children. And if that isn't enough there was an excellent piece of research published recently about the positive effects of Scouting on young people's mental health. The impact of your efforts stretch far beyond the children you work with on a Monday evening and you only have to think back to the recent remembrance parade to be reminded of the importance of Scouting's role in the community. I know as someone who has little contact with Tarvin due to school and Church being in different villages I personally value the Scouting connection very highly in bringing our family into the community of Tarvin"