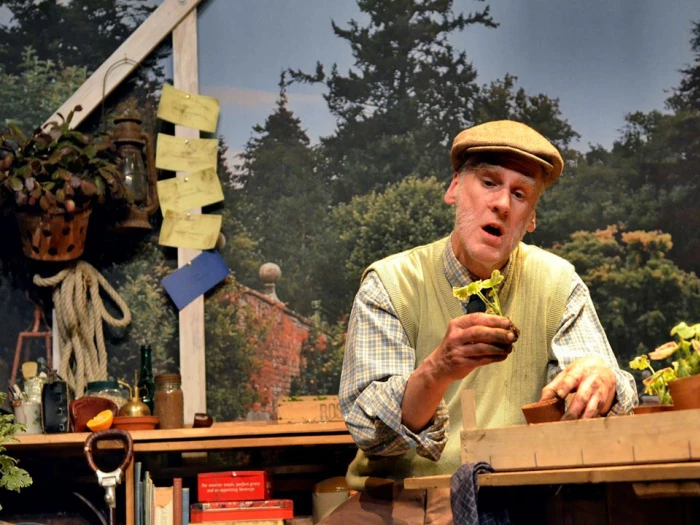 Tickets for the first of the new autumn season of theatre productions on Friday September 17th are selling steadily at the Post Office and online at www.ticketsource.co.uk/cheshireruraltouringarts .
They are £10 for an adult and £6 for children under 16. Old Herbaceous is a one man show that will fill the evening with gentle wit and humour. There is also an opportunity to pick up some useful gardening tips!
Vice Chair Sue Hardacre said "We are so pleased to be able to start offering live theatre from Cheshire Rural Touring Arts again. Productions offered by professional artists and small theatre companies have been very hard hit by the pandemic. They add so much to the cultural life of small communities, so it is wonderful that they are on the road again. This is how CRTA describe the production"
"Pottering amongst the seeds and cuttings at the back of his ramshackle greenhouse in the garden of a Gloucestershire manor house is Herbert Pinnegar. Now in his twilight years, he's full of memories and tales of a bygone era. In between potting up and potting on, he recounts his journey from orphan boy to legendary head gardener 'Old Herbaceous' and tells of his friendship with the lady of the house, Mrs Charteris.Sown with seeds of gardening wisdom, this charming one man show is a love story – a humorous and touching portrayal of a single-minded yet gentle man with a passion for plants."
Sue says "It is unlikely that the Hall will be very full, so we will be able to give the audience some separation. However, we would request that you consider wearing a mask if you can do so comfortably, as the ventilation in the Hall is rather limited. This will increase your protection and that of others who may be more vulnerable."
The doors will be open from 7.00pm and the performance starts at 7.30pm. The show lasts for just under 2 hours and there will be an interval. There is ample off-street parking, and the bar will be open for refreshments.