The photograph of the High Street published today to accompany the article re road closure also clearly shows another problem.
That is a perfect photo of a daily happening where the no. 82 bus to Northwich has to pick up and drop off passengers in the middle of the road due to the presence of parked cars at the bus stop. The work carried our by CWAC Streetscene was a complete waste of money without road markings prohibiting parking at a bus stop.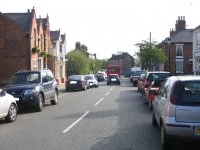 The new pavement was raised to allow easy access for the disabled, pushchairs and wheelchairs and for the safety and comfort of all passengers when boarding and alighting. This they are being denied.
I approached the Parish Council about this problem but was told a year ago that the work was on-going!
How long do they need?