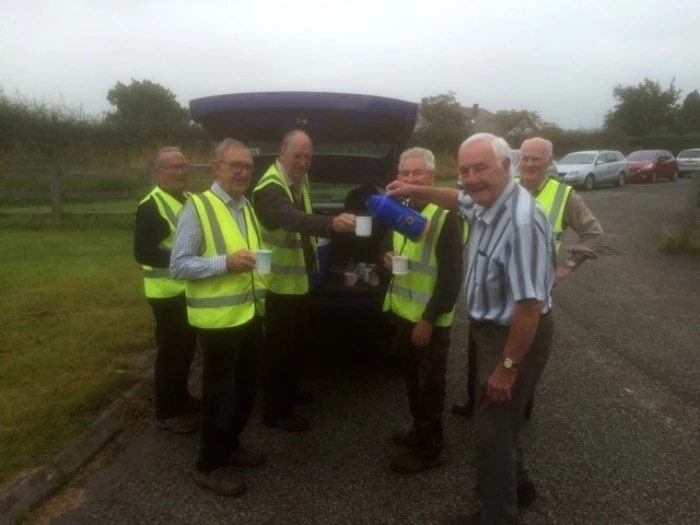 When, week by week, the woodland volunteers have turned out to work on woodland projects – every Thursday morning for the last four years – Bryan Evans, whatever the weather, has also turned up with tea, coffee, biscuits (and jokes) in order to fortify the workers.
The photograph shows Bryan dispensing drinks to a group of hi-vis bibbed volunteers – Ralph Waldock, Roy Brereton, Pete Maiden, Eric Powell and John Sim. Thank you, Bryan. You are truly a star!
The project that they are working on is to clear and tidy the footpath from the new pedestrian entrance to the Taylor Wimpey 'woodland' at Austins Hill, right down to the Gruffalo's Cave at Mount Pleasant. Half of this has been completed, with the rest scheduled to be done next Thursday.
This work is being done in readiness for the Celebration Walk, which begins at the school at 1.30pm on Saturday 10th September 2016 and to which everyone is invited. This event, which will mark the opening of the woodland extension, will be followed by a village picnic tea, kindly provided by Taylor Wimpey (North West).
As an aside, as the volunteers were working, they wondered when, why and by whom the beautiful sandstone wall was built. It seems that the answer is Cheshire County Council, as a part of a road-widening scheme that involved the compulsory purchase of the land. With regards to the date, it was noticed that one of the stones in the wall has a glazed surface and into this had been inscribed the date on which the building was done. See if you can find it!