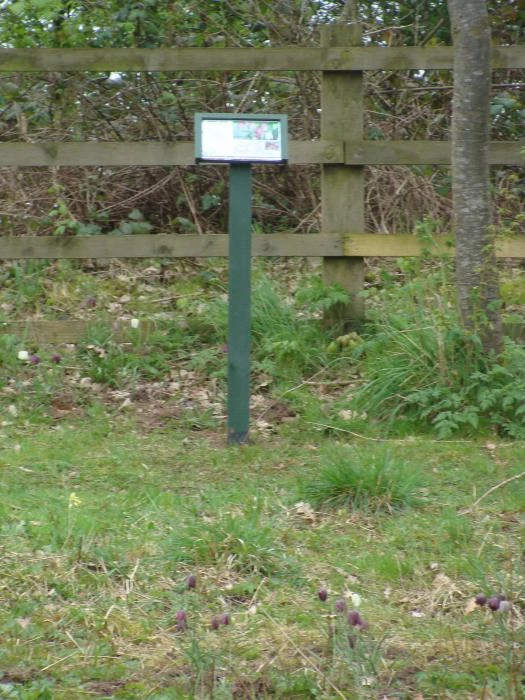 Tarvin's woodland has been visited by vandals – AGAIN!
Until recently, the woodland had suffered very little from vandalism. However, a fortnight ago, the bark was removed from one of our trees, thereby killing it. On Saturday, 7th May, we have had all of our identifier posts and the A4 signboards pulled out and – we think – mostly scattered about, although we have not, as yet, found everything that was removed. We HOPE that none of them have been taken away.
Who would do such things? Who would want to spoil a place which is the VILLAGE'S OWN WOODLAND? Who would want to undo the work undertaken generously and willingly by village folk? Who is determined to undermine the efforts to produce a woodland that can be enjoyed at any time by everyone – a woodland that has been "Created by the community, for the community"?
I cannot understand why, because something is of no interest or value to oneself, it is thought appropriate to stop it being available for other folk, who might appreciate it. Would someone being bored provide a sufficient justification? The policeman to whom I reported the damage didn't think so: he recorded the incident as one of criminal damage.
The Woodland Trustees are not out for vengeance. We are NOT SETTING OUT to have anyone prosecuted. All we want is for the trees, plants and animals in our woodland to be left unmolested and the information signs and identifier posts that the Trustees have spent their time and the village's money in creating to be left alone. We want other people to either enjoy or ignore things as they see fit. Doing things like this – spoiling things for other people – ISN'T FUNNY – IT IS VANDALISM! We would be grateful for anyone who has any knowledge of what has been happening to have a quiet word with one of the Community Woodland Trustees, so that we can try to prevent any events such as these from occurring again.
It is the TARVIN COMMUNITY WOODLAND – intended for EVERYONE TO ENJOY. The only woodland rule is PLEASE LEAVE IT AS YOU FOUND IT!