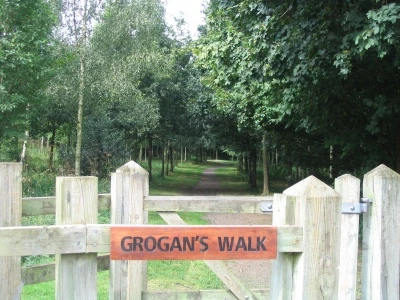 This is the start to a very different New Year for the woodland and its Trustees!
The weeks leading up to Christmas were really eventful, with both of the deals to enable us to become the owners of our woodland (on behalf of the whole Tarvin Community) being brought to completion. The new woodland strip along the A51 behind the Taylor Wimpey development was signed over to us (to be finally transferred and opened for use by village folk by April 2017 at the latest) and our plan for its management was accepted without any alteration by the CWaC Planners.
Additionally (and perhaps even more surprisingly) our original woodland has now been sold to us (for the princely sum of £1!) by Cheshire West and Chester Borough Council – and will henceforth be looked after on behalf of the community FOREVER!
So, instead of having a 125 year lease on its woodland, Tarvin village now owns the whole of the land in perpetuity!
Trustees are very grateful to the folk at both CWaC and Taylor Wimpey for enabling all of this to come about, to the Nantwich firm of solicitors, Bowcock Cuerden of Nantwich, for their generous sponsorship of the process and especially to David Thorp (a Tarvin man and one of the Bowcock Cuerden Directors) whose painstaking and tireless work and sound common sense did so much to bring things to a successful conclusion. He is truly a 'Friend of Tarvin Woodland'.
Soon we'll be submitting our two bids for funding, and, if these are successful, we could also be able to undertake the installation of the water scrapes. What an exciting year we're looking forward to! We will have much to celebrate – and no doubt we will be doing exactly that later in the year. Watch out for the notices later in the Spring.
This is also a good time once again to say, "Thank you!" to all of the Tarvin community. Your support, evident in so many ways, is invaluable to us. Whether it's supporting a coffee morning, responding to one of our campaigns, buying plants, reading the monthly communications that come out from the Trust, using the woodland with a smile on your faces and a spring in your steps – all of these give us so much encouragement to carry on with the job of looking after our "Green Flag" woodland. The papers have just been submitted for the Green Flag Award 2015. We'll keep you posted on the progress of our application – let's see if we can be awarded a sixth Green Flag!
Everything that is going on in the woodland is well documented on our very extensive (and frequently up-dated) website. Do 'visit' us at www.tarvincommunitywoodland.org.
Ed:"This is great news for Tarvin, and, The Tarvin Woodland Trust, who are doing a brilliant job, let's all get behind their campaigns to improve and maintain Tarvin Woodland!"