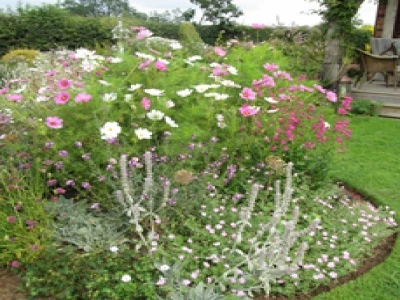 The National Garden Scheme booklets listing gardens and their opening dates are now available from Tarvin library.
We are lucky to have several in very close proximity and I have listed 9 in order of opening dates.
In Bunbury, Long Acre in Wyche Lane will be open on Sunday 26th April from 2 – 5pm.
To see a Grade 11 star Arts and Crafts garden you can visit Tirley Garth at Willington from
1 – 5pm on Sundays 10th, 17th,or 31st May.
Tattenhall Hall will be open on Sunday 17th May (2 – 5.30pm).
May 24th and June 21st are the days when you can visit Manley Knoll between 12 and 5pm.
In Hatton Heath, Hatton House Gardens have their open days on Saturday and Sunday 6th and 7th June from 12 to 4.30pm.
Brooklands in Smithy Lane at Mouldsworth opens from 2 – 5pm on Sunday 7th June.
Sandymere on Middlewich road at Cotebrook opens 14th June at 2 till 5.30
On 21st June you can go to see the garden at Bowmere Cottage in Tarporley from 1.30 to 5.30pm
Our closest garden is Clemley House in Well Lane Duddon. Open day there is 28th June 12 – 5pm
At Barrel Well Hill in Boughton it is suggested you go by boat to see the garden on 4th or 5th July between 11am and 5pm.
Most of these cost £4 with home-made teas available.They can usually be visited at other times by arrangement.
We also have some larger local gardens which are open regularly.
Abbeywood at Delamere has a specialist plant fair on Sunday 23rd August as well as its NGS open days on 3rd May and 2nd August.It also has a lovely restaurant open daily except Fridays.
Mount Pleasant in Yeld Lane Kelsall opens regularly and has its NGS open days on 3rd and 4th May and 5th and 6th September.
If this has wetted your appetite, pick up a booklet at the library and you'll find many more.