The Edna Rose Room at the Community Centre was a hive of activity when this month's meeting on Wednesday 26 August, 2015 was duly opened by the President, Irene Wilkinson. There was much to discuss and soon all members were brought up to date with recent and forthcoming events.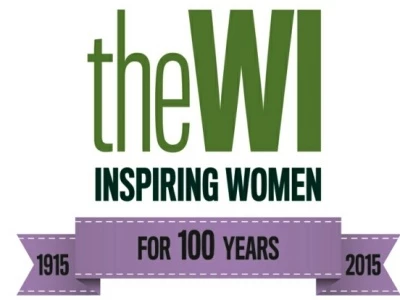 AFTERNOON TEA
We were lucky with the warm summer's day weather on the afternoon of Sunday 9 August when several members and friends attended the Alternative Garden Party at The President's House. Tables set for tea in the garden, were soon filled. We were greeted with a glass of Pimms being served on arrival and soon after, we had a surprise visit from 'Queen Janice' in full regalia dress who graced us with her presence and declared the garden party open. There was a Bring and Buy table full of a variety of things, a Raffle, and a Quiz on the subject of Tea, on each table which kept the little grey cells busy. Later, delicately cut sandwiches, delicious cakes and a choice of tea or coffee were served by some very efficient 'waitresses'.
Three great sports, Elizabeth Brereton, Edna Smith and Margaret Cheadle joined in the fun for the Snowman competition which was won by Margaret Cheadle.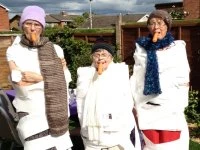 VISIT TO LLANFAIR PG
Sixteen members enjoyed a visit to theToll House at Llanfair PG, Anglesey, the first home of the Women's Institute in the U.K. After lunch, Federation Chairman Audrey Jones, gave a very entertaining and interesting talk on the history of the W.I. followed by a tour of the Toll House itself. Two copies of 'A Grain of Mustard Seed' were purchased and will be made available for our members to read. A visit to Betwys-Y-Coed and lovely views from the coach on the journey home added to the day's enjoyment.

MARTIN BLOW – BEE HAPPY
Keen gardeners amongst you may recognise this evening's speaker Martin Blow from BBC Gardener's World programme broadcast in August last year. Martin and his wife Janet run a cottage garden nursery in Hankelow, Cheshire, specialising in producing a large variety of high pollen hardy perennials. Martin is passionate about encouraging gardeners to grow the type of plants in their gardens that will attract bees and butterflies. Planting flowers rich in nectar will really help bees find the food they need, for instance: Helenium, Hemerocallis, Geum, Centaurea, Phlox, Achillea and Monarda to name a few.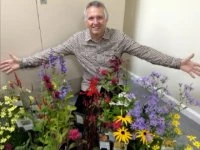 Although not an expert, Martin is a keen bee watcher. We heard about Cuckoo Bees not collecting pollen and laying their eggs in other bees' nests. Bumble Bees having smelly feet that leave a scent on a flower, to warn other bees to avoid landing, when there is no pollen left. Bees can't climb into some long, narrow tubular flowers so they bore a hole in the back of the flower and insert their long tongues into the nectar.
We were all entertained with a delightful informative talk together with many photographs of beautiful flowers being visited by assortment of bees, butterflies and other helpful insects. Later Members were able to peruse plants Martin had brought with him. The President, Irene Wilkinson gave the vote of thanks.
Later, after members were busy arranging many of the forthcoming events amid a buzz of tea and coffee and lots of chatter, with old friends and new, the evening came to a close.
The next meeting is on Wednesday 29 September at 7.30 PM in the Edna Rose Room at Tarvin Community Centre. The Speaker for the evening is William Boyce, The Red Arrows.
You will be very welcome and we hope to meet some of you.