A thousand secondary school pupils were challenged to turn off their technology and do a week-long digital detox.
Pupils at Tarporley High School pledged not to use social media or play computer games as part of an experiment on BBC Radio 5 live's Afternoon Edition programme.
They vowed to stay off Snapchat, Facebook and their favourite games while BBC Radio 5 live recorded the results and documented their experiences.
It was thought to be the biggest 'digital detox' experiment ever involving young people and came as concern about how much time school children spend gaming and on social media is growing.
BBC Radio 5 live and BBC News School Report asked the pupils to record video diaries and the school conducted a survey during the week about the young people's experiences.
Presenter Chris Warburton from BBC Radio 5 Live was at the school on Wednesday, March 2 to launch the challenge, Monday 7th March to see how students were getting on and returned on Wednesday 9th March to sound the claxon and signal the end of the challenge.
Throughout the week, students were treated to a whole host of filming and recording opportunities with BBC Radio 5 Live broadcasting live from the school and BBC North West Tonight featuring the story on Wednesday, March 2 and Wednesday 9th March in their teatime editions.
Meanwhile budding bloggers Tom, Arianne and Niamph had been documenting the action and had their article published on the BBC website alongside many students' video diaries from the experiment.
In addition to this, BBC Technology correspondent Rory Cellan-Jones rang the school and spoke to Patrick, aged 15 about the project so he could feature the school on the BBC News website.
BBC Breakfast – Saturday 12th March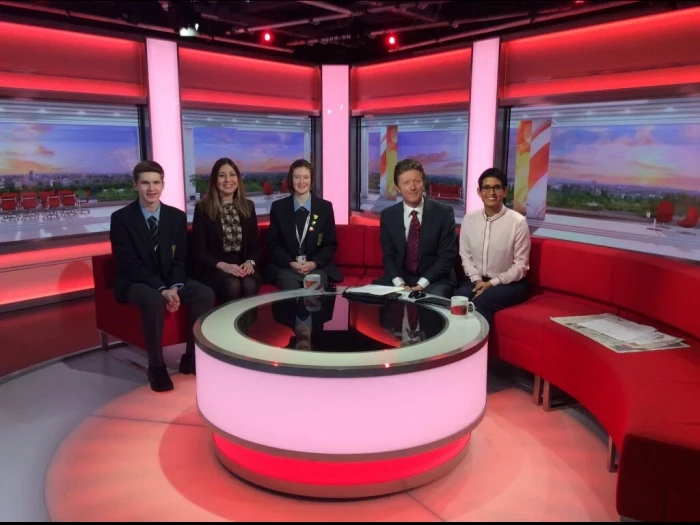 The pinnacle of all the Media Coverage came when the school received a call from BBC Breakfast inviting the school's Assistant Headteacher and two students, Daisy and John both aged 14, onto the BBC Breakfast couch along with Charlie and Naga on Saturday morning The pho shows John aged 14,Mrs Eaton -- Assistant Headteacher, Daisy -- aged 14 and Presenters Charlie Stayt &
Naga Munchetty.
As cars arrived very early to whisk the teacher and students away to Media City in Salford, it was straight into make-up before heading for the studio. Both students demonstrated high levels of commitment even donning their uniform impeccably on a Saturday morning!
The school was featured twice, first at 07:40 and later at 08:50 with both opportunities seeing the school's representatives being interviewed live about the detox. Students coped incredibly well under pressure and came across as confident and articulate in front of the biggest Breakfast audience of the week – 7 million viewers!
Ffion Eaton, assistant headteacher at Tarporley High School, said: "Being invited onto the BBC Breakfast couch was such a fantastic opportunity to share the impressive work of our students. We are incredibly proud of both Daisy and John as they were excellent ambassadors for our school."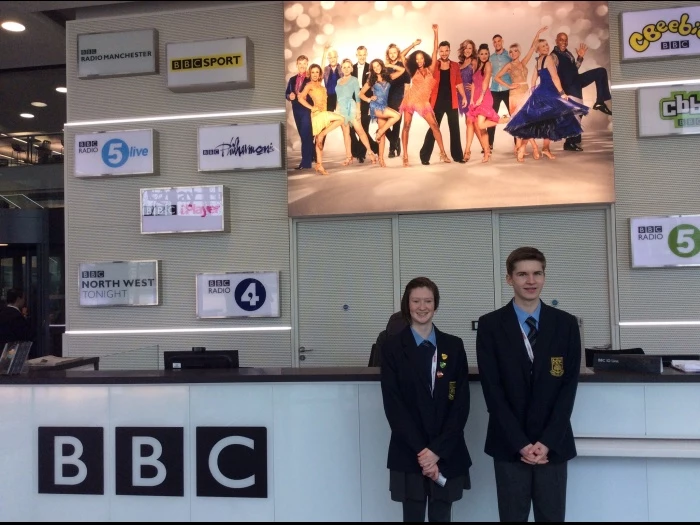 The Results
Overall, just over 200 out of 1100 students managed the challenge right until the end with many students commenting that the detox had made them reflect and reduce their use of social media.