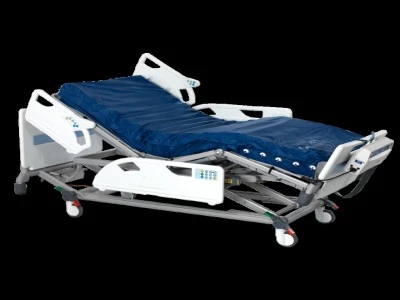 On the 31st January we published an article from Jacqueline Wilson, Independent Funeral Director, about the profits made by them at the Christmas Market which they had passed on, with a matching amount from the company, to Tarporley War Memorial Hospital.
The Hospital has to rely on fund raising to help supplement NHS contributions and it was pleasing, therefore, to know that the generosity of Tarvin residents and a local business had enabled a new piece of equipment to be purchased.
The money has been used to purchase a Nimbus 4 System mattress.
What is that you may ask?
Following a phone call to Tarporley Hospital, Tarvin Online can now reveal that the Nimbus 4 is an air mattress but, as the accompanying picture shows, it is nothing like any campers might have come across. It is described as a 'dynamic mattress replacement system with automatic adjustment and a range of features designed to ensure optimal pressure relief and patient comfort'.
More prosaically, but very importantly it is designed to help reduce bed-sores for long term patients and those receiving palliative care. Karen Urmston Fund-raising Co-ordinator added " this particular model has the additional feature that the air pump is exceptionally quiet and this will be of great benefit to both the patient and their visitors"
Tarporley war Memorial Hospital provides a range of services for the local area, services that many Tarvin residents take advantage of. As a charity it is an independent organisation and, though it receives NHS funding for some of the services it provides, it relies heavily on local voluntary support. It is great to know that, by enjoying themselves at the Christmas market, visitors were helping to support this valuable local institution.