You may have wondered why the developers of the new development at Tarporley Road have proposed "Saxon Heath" as its name.
This is, I suggest, is because the remains of a Saxon Cross were found during the exploratory dig by Chester Archaeological Department prior to the housing development on the adjacent site at the corner of Tarporley Road and Broomheath Lane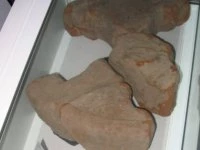 The Anglo-Saxon Cross head, which dates from 10th to the early 11th century AD, was discovered in a 17th century ditch during excavations in 2006.
It is believed that the cross was a wayside cross and boundary marker used not far from where it was found, and it is recorded as being destroyed in 1613 by John Bruen of Stapleford and his servants, Hugh Jones and John Eaton.
Similar acts of destruction were carried out on other crosses at Barrow, Vicars Cross, Christleton, and Eccleston, and the perpetrators were arraigned before the Star Chamber at Chester in 1614.
John Bruen was a Puritan, and together with other gentlemen of similar persuasion, believed that destroying these crosses would cause a "reformation of abuses and superstitions". They maintained that the crosses were used by local Catholics for superstitious and idolatrous worship.
The remains of the Tarvin Saxon Cross can be seen in the History Exhibition in St Andrew's Church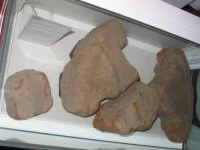 The final decision on a name for the completed development (if any), and the roads thereon, is the prerogative of Tarvin Parish Council.