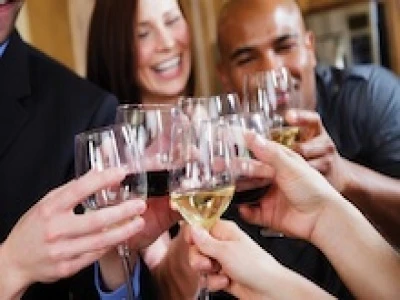 Wine Tasting attracts a good audience
The Community Centre was delighted to welcome the Co-operative Society last Friday for a member's Wine Tasting to celebrate Fair Trade Fortnight. The Co-op is the largest importer of Fair Trade wines in the country and all its own label wines are produced this way.
70 people enjoyed a tutored wine tasting of 4 Argentinian wines, a Malbec and Cabernet Sauvignon, a Pinot Grigio and a Chardonnay. All are sold under the Co-op's own label and sell between £8.49 for the Malbec and £6.79 for the Chardonnay. Also present were representatives of the co-operative that produces them, in the UK on a promotional visit. Food to complement the wines was provided by the Community Centre. As the character of many wines changes quite dramatically when drunk with food, the audience was able to get the most out of the tasting.
Since it arrived in December 2012, the Co-op has quickly become a part of the retail scene in the village. The wine section has an extensive selection of wines and the store has a programme of rolling special offers lasting three weeks to tempt customers to try new wines.