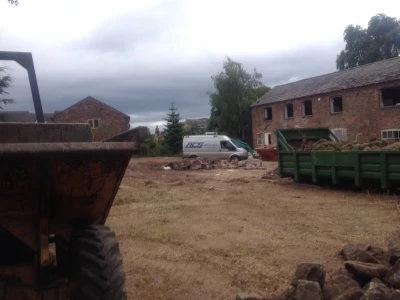 Work has started on the development of Top Farm between the Ridgeway and Forge Way. The property has remained derelict for some time and is to be converted into three, modern three-bedroomed houses. The façade facing to High Street will remain essentially the same, thus maintaining the visual integrity of Tarvin's Conservation Area.
In the space to the rear of the restored properties, two semi-detached houses will be built in the style of those on the Ridgeway. Access for cars will be from The Ridgeway but there will be a pedestrian gate opening onto Forge Way.
The development is very welcome and will remove what had become something of an eyesore, though one which did not affect many people. Residents will be able to keep an eye on the progress through the gap in the wall near the Co-op store. Hopefully it will not be too long before the village can welcome new residents into the heart of the community.