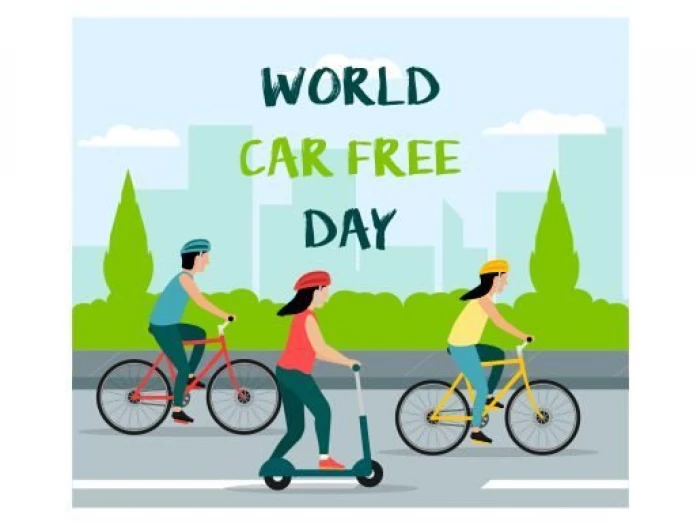 Wednesday 22nd September 2021 is World Car Free day.
One day a year is set aside around the world to try and avoid using cars and instead walk, cycle or use public transport. This is often referred to as 'Active Travel'. Car Free Day aims to take the heat off the planet for just one day by encouraging people to be less dependent on their cars and try alternatives.
Obviously not everyone is in a position to do this as they may depend on their car for essential travel and where alternatives are not practical. For those people who are able to make a choice for short journeys it is both enjoyable and healthy to walk or cycle within your community.
So if you can, why not walk or cycle instead on Wednesday 22nd September? You might be surprised how quickly you can get to the village centre and not have to find somewhere to park when you get there! We do have several bike racks around the village to secure your bike (Opposite the Post Office, at the Coop and at King George V Playing Fields).
World Car Free day also falls in the week before Bike to School week so the whole family can try travelling sustainably in September if they don't already.
For those a bit more adventurous and confident on a bike, Chester is only 6 miles away and there is a choice of routes.
* A relatively traffic free signed route is NCN Regional route 71 which runs from Hockenhull Lane over the bypass to join Platts Lane in Hockenhull which turns into a pleasant trail across the ancient packhorse bridges over the Gowy. From here carry on to join Cotton Lane to Christleton. Keep going straight over at junctions. After passing the High School and then the Primary School it is possible to then join the Canal towpath all the way into Chester City Centre.
* A more direct, but segregated route, is to follow the Shared User Path (SUP is a pavement which is legally allowed to be cycled along and is signed with circular blue and white signs) which runs along Holme Street A54 and then A51 all the way to Littleton. From Littleton you can either cross at the soon to be installed Toucan crossing and then carry on to Chester along the A51 or you can cycle along Hare Lane and cross the ring road to pick up Green Lane. Where Green Lane joins the A51 by the Shell garage it is possible to join the canalside path to get the rest of the way into Chester. The road improvements have delivered substantially wider sections of path but care must still be taken on the narrower or less well-maintained sections.
* An on-road option is to cycle the back lanes via Austins Hill to Waverton and then taking Brown Heath Road to Christleton turning onto Plough Lane to join Route 1 above.
* The Millenium Greenway, which starts in Guilden Sutton near to Meadow Lea Farm Coffee shop, is a tarmacked disused railway line which takes you all the way into Chester with various exits to useful points in Town and connects to many other car free routes beyond. The Greenway can be reached from Tarvin by using route 2 above and turning onto Wicker Lane at Littleton to ride on road until you reach the Greenway on the left.
Ed: My kids loved the idea of cycling the Greenway all the way to Wales!