If you walk down Tarvin High Street and turn into Church Street today, a hundred years after the Armistice, you will see poppies everywhere. All the shops have poppies in their windows, the two churches have huge displays and the gateway to Tarvin Hall is resplendent.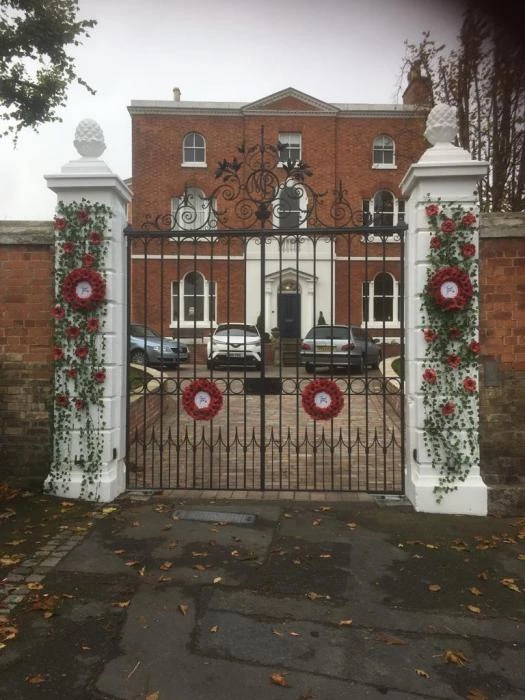 Our heroes are not forgotten. The casualties of war who left this peaceful little village to defend our country, often in the most appalling conditions are receiving a fitting tribute to their courage and self-sacrifice in our centenary commemorations.
St Andrews Church is hosting a rare exhibition of World War memorabilia, loaned by local residents from their treasured memories of loved ones now lost to us. The Exhibition is open each afternoon this week from 1:30pm. Refreshments are being served and while you drink your tea and coffee you can listen to poetry and music dedicated to the men and women who served their country so well.
On Saturday morning, Tarvin Methodist Church is hosting a World War One Coffee Morning and, in the evening, there will be a Peace Concert in the Community Centre. Tickets for the concert cost £3.00 and are available from Sandra Turner at St Andrews.
On Sunday morning Church Street and the High Street to Hockenhull Lane will be closed from 10:20 to 11:15 am while the Remembrance Service takes place. The uniformed organisations will parade along High Street with their Standards to the War Memorial. Children from Tarvin Primary School and their teachers will accompany the procession. Following the service at the cenotaph and in St Andrews Church, there will be a Peace Lunch served in the Community Centre, starting at 1:00 pm.
All the money raised from the events being held this week and at the weekend will be donated to The British Legion and Help for Heroes.
Commonwealth War Graves Historian, Max Dutton said, "Behind every one of our headstones or names on a memorial to the missing is a human story just waiting to be told". The stories of Tarvin war heroes are part of our village story. The courage and fortitude of the men and their families who lived in Tarvin one hundred years ago are being honoured this week in our tribute to their sacrifice.