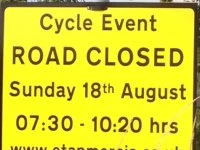 The closure of local roads through Oscroft on 18th August 2013 for the ETAPE Mercia Cycle Race is still causing anger among local residents, some of whom have made their feelings clear to the Parish Council. Whatever the status of the good cause or the enjoyment of participants, some residents felt that they had been made virtual prisoners in their own homes for over four hours.
The cycle race and the organization that went into it fell outside the control of the Parish Council and responsibility for informing residents fell to Cheshire West and Chester Council. However, the Parish Council did publicise the event in two editions of the Tarvin Times. The Parish Council also made its concerns known to the Borough Councillors who did make a number ofinterventionsto ease certain individual difficulties.
So numerous have the complaints been to Cheshire West and Chester Council that a special debriefing session for Borough and Parish Councillors has been arranged in October. Representatives of Tarvin Parish will attend and make sure that the views of Oscroft residents in particular are heard.
The Parish Council has no wish to be a 'killjoy' and recognizes that there will always be a potential conflict between large scale events which can provide enjoyment and benefit and individual needs. But it will do all it can to make sure that the balance between the two is fairly and reasonably set should anything similar to the ETAPE Mercia Cycle Racebe proposed in the future.