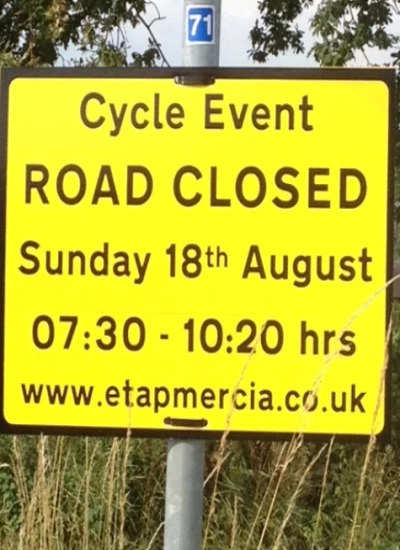 Following the success of British Cycling in 2012 with the Tour De France and the Olympics, Cheshire West and Chester have been given the opportunity to deliver one of four charity road cycle events in 2013 bringing together cycling enthusiasts from all over the UK.
Taking place on the 18th August 2013, Etape Mercia will offer riders 69 miles of safe, closed roads in the scenic West Cheshire countryside. The route will take them past some of the most awe inspiring views and landmarks Britain has to offer, including the majestic Beeston Castle. Starting and finishing with a loop of the legendary Oulton Park Race Circuit, riders will start to the iconic red and green racing lights before finally crossing the finish line in glamorous fashion to a waving chequered flag!
Without too many challenging hills to overcome, this is an entry level event which poses a fantastic challenge for newcomers to cycling, as well as seasoned cyclists and triathletes keen to lead from the front and put their mid season fitness to the test.
Like many road tours the event also includes a Sprint Stage and a King of the Mountains for those who like an added challenge.
Over 2,000 riders of all abilities, from charity fundraisers and first timers through to seasoned sportive riders are expected.
In addition to general entries, 400 free charity pledge places will be available to those willing to raise £250 or more for Marie Curie Cancer Care.
Impact on the local economy
The event is also important in terms of the Cheshire West and Chester economy. With pre registration on the Saturday, the participants will visit and stay in the area over the weekend. Based on events in other areas, this will bring significant spend in the order of £2 million through accommodation, eating out and other visitor spend

Potential disruption kept to a minimum
With these types of events there is always a level of disruption to residents and communities and people will need to consider parking and movement issues. The course has been designed in a way to minimise disruption by keeping all A roads and the majority of B roads open.
To assist residents and businesses a series ofdocuments have been produced by Talking West Cheshire to help communities plan their day around closures and the impact of the event.
For our area the race will miss Tarvin itself but pass through Duddon and Oscroft via Willington. (See pages 4&5)
(Information for this article has been drawn from theTalking (West Cheshire )and Etape Merciawebsites. Ed)
In a separate articletoday Councillor Hugo Deynem has answered some concerns that have been raised locally about road closures and the consequential disruption.