First Tarvin Village Fete since 2001!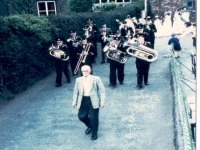 Its hard to believe but it has been 13 years since our last Village Fete. The driving force behind this year's Fete is Jo Richards, well known in Tarvin for all the hard work she puts into our Community.
There is an "Advisory Committee" consisting of Mike Hassall, Alan Wilkinson and Adam Friend giving Jo support as needed. As this is a major fundraising event for the Community Centre they report back monthly to the Community Centre Management Committee.
I was able the other day to get Jo to take a couple of hours off from being the Fete project manager and explain in some more detail the plans for Saturday 28th. June.
As the last Fete was so long ago previous plans were of little use as today's bureaucratic demands and Health and Safety requirements forced Jo to start afresh. The number of I's to dot and t's to cross and the sheer volume of paperwork to fill out was amazing. Jo takes a positive view in that a future event will have all the hard groundwork done!
Since there is so much going happening on Fete day I thought we ought to split the day up into 3 parts; namely the Procession, the afternoon events and finally the evening gig.
The Procession
This will start from the Ridgeway at about 1230 to arrive at the Community Centre at 1330. The route will be along High Street, down Hockenhull Lane before turning up Crossfields and finally arriving at the Community Centre.
Even enlarged ( click on map) the traffic management map is difficult to see clearly. Suffice it to say there will be signs everywhere showing roads closed, diversions, parade in progress etc.
There will be access for St. Andrews church shown at the Tarporley road exit from the village as I understand a wedding is taking place at midday at St. Andrews. Congratulations!
The whole procession will be led by a Cavalier in full costume who will set the pace along with the Farndon Brass Band.
The Brownies , Beavers and Cubs together with their standards will follow the band ahead of a team of Morris dancers.
We will then have the Fete King & Queen's entourage.
This should be magnificent with The King & Queen walking under their floral canopy held up by canopy bearers and lead by ribbon holders.
The retinue following will be 5 princes and princesses and then 5 lords and ladies!
All of these children come from Tarvin Primary School and they will be followed by Tarvin Pre-School children in costume.
What a great start to the day's event this should be for Tarvin's children
More information on the afternoon attractions to follow