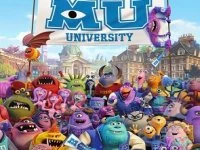 There was a super turnout for the first Family Film night of the new season on Friday (Sept 27th) It was almost a case of standing room only and the Committee were surprised – but delighted – when asked to provide a few more chairs! The youngest visitor was a babe in arms and the oldest, a gentleman of more mature years who came by himself! The Brownies were out in force and the Committee would like to thank Brown Owl for her hard work and support.
The film, Monster University, was another recent production from the Disney studios and seemed to give both younger and older members of the audience something to smile about.
Alan Wilkinson, Chairman of the Community Centre committee said "I feel that we have now established the Family Film night as a regular event in the village calendar. I understand that we also now get some customers from the surrounding villages, and they are most welcome. I believe that we have got the right balance of informality, price and quality for parents to feel that it is good value for money."
The event, together with the takings from the tuck shop, raises a steady return to the Community Centre budget. With the plans for improvementsto the Community Centre starting to take shape, all increases in income are welcome. The success of the Family Film nights also enables the Community Centre to be more adventurous in the provision of other family- centred entertainment, particularly children's theatre performances through Cheshire Rural Touring Arts.
Coming soon for family audiences are:
Friday 18th October at 6.00pm – The Dragon Who Hates Poetry, a story-telling events with music and laughter
Friday 25th October at 6.00pm – Family Film Night – PLANES
Friday 1st November at 7.30pm -6 Impossible Things a comedy-theatrical- spectacular where nothing is as it seems!
All tickets will be available from the Post Office.
Please keep and eye on the A-Frame in the village for more details as we near each event and of course on Tarvinonline .