In the splendid surroundings of the Wolf Room at Eaton Hall on Wed March 25th Cheshire West and Chester Council hosted an evening to celebrate good practice among the Parish and Town Councils of the area.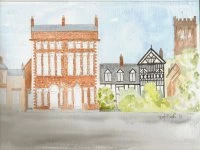 I am delighted to say that Tarvin Parish Council was nominated in two categories, Innovation in Service Delivery and Effective Communications. With regret I am afraid that we failed to win a prize. Having watched a number of Oscar ceremonies, I hope my face conveyed the right balance of disappointment at our failure and delight for the winner!
It was a pleasure to hear some of the Parish Council's new ideas being applauded. Indeed one of the things we are proud of is the way we use this platform, Tarvin Online, to communicate with residents. However, other Councils have gone much further with, for example, Frodsham Town Council producing a live webcast seen by an audience of about 300.
To see how this looks go to www.frodsham.gov.uk/recorded-meetings. Obviously we have still have a way to go to embrace the new technology.
The evening celebrated the work of both Town and Parish Councils, though I think that it is fair to say that innovation and involvement seem a little easier in the larger council. Not only is there a larger group of councillors to call on, but also a larger number of potential community volunteers to draw into collaborative and new projects. However being willing to try new things is not a function of size alone, and the new Tarvin Parish Council may well look to new ideas with increasing enthusiasm. Tradition is important but so is progress.
I also hope that the next Tarvin Parish Council can take the time to talk about its successes. Certainly its involvement in the community is real and of value, though there are times when the residents – and indeed the Councillors – may feel that little of importance is happening. While the ceremony last night certainly high-lighted some great thing done at parish level, I do think that Tarvin Parish Council could have trumpeted its work a little louder.
I hope the event is held again next year, that Tarvin again is nominated and this time, comes away with the recognition it deserves,