Does your garage or attic have loads of objects that you were going to use sometime, or, they went out of fashion?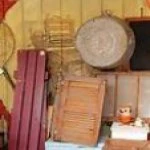 Have you items that you cannot bring yourself to throw away, or, you just need more space?

Then you need to go to Tarvinonline.org and use the Buy/Sell feature!
Buy/Sell lets you sell your unwanted or unloved items, or even, give them away!
Three easy steps to follow:
1. Go to Tarvinonline.org and from the header select Buy & Sell
2. Select "List your item. "
If you've already registered as a user, you can use the same email address and password to use the BuySell. If you're not already signed in, you will be prompted for your details when you list your item.
3.List your item under "New Item" upload photo, description, price etc.
4. Click "Done" and your item will appear on Buy/Sell
Get rid of your junk now – go to Tarvinonline.org now!