By Tarvin Webteam - 8th December 2013 6:00am
Good News received yesterday (4th December)regarding the Roman Bridges and the removal of the graffiti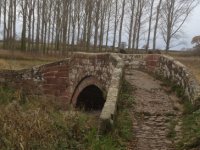 MJR Masonry Services, see last article, has completed the delicate task of removing all the graffiti from both bridges.
The task took a total of 2 days and the cost to the taxpayer was in four figures!
The clean-up has resulted in some "shadows" of the graffiti which should fade and get covered in lichen again, in due course.
As these photos demonstrate its a massive improvement.
The offenders have supplied written apologies to Tarvin Residents as agreed as part of the "Restorative Justice" action arising from this unsavoury incident which you can download here and here
popular recent storiesAlso in the news