Way back at the end of July 2013 we published an article about the funding of a proposed expansion of Tarvin Primary school. Tarvin Primary school was one of only 6 schools selected in the CW&C area. Incidentally Barrow Cof E Primary school was also successful in getting funding from a Government initiative called the "Targeted Basic Need Programme" which aims to create about a further 74000 new pupil places across the country by September 2015.
In October 2013 CW&C we reported on CW&C's plansfor Tarvin Primary. There was an opportunity to comment on these expansion plans via a consultation process
So what's in store for the school?
Building work is set to begin on the expansion of Tarvin Primary School next January,
This will provide four new classrooms including two small reception classes and a 45-place nursery school for youngsters aged two-school age.
It is hoped that by 2019, the school will have increased its entire roll from 210 pupils to 315.
Completion is targeted for June 2015.

The completion date takes into account the rapidly progressing planned housing development at Saxon Heath, as well as Cheshire West and Chester Council's birth rate analysis and parent preferences.
In addition to the Government money Taylor Wimpey, the Saxon Heath developers have provided almost £180k via a section 106 agreement towards the extension.
Although this may seem a large contribution the overall cost of the expansion is believed to be around £1m.
The project is being managed by Balfour Beatty who are encouraging all members of the Community to find out about the changes. The next chance to see what is going on will be at the school Open day on 23rd October.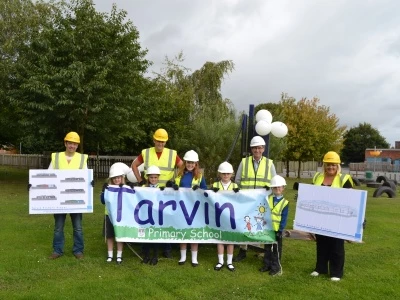 Initial ground excavation works have been undertaken very recently.
From L-R Chris Rigby (Parent Governor) Andrew Davies (Headmaster) Damien Froehlich (Balfour Beatty) Lyn Jackson (Chair of Governors and Nursery Manager)
Holding the banner were from L-R Grace Bebbington, Arianne Rigby, Lucy McMillan, Katie Bebbington and Toby Rigby