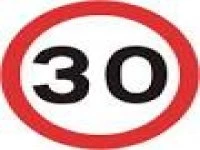 Whilst collecting the Community Centre survey forms and therefore spending a week going up and down Cross Lanes at least twice a day I became very concerned about the speed of the traffic on even the narrowest parts of the road.
I had already planned to ask the Parish Council to consider using part of its New Homes Bonusmoney (a Government grant based on the increased number of houses in the parish) to move the 30 mph sign to the Tarvin side of the bridge i.e. before the bend going into Oscroft. This proposal will be competing for funds with many other worthy schemes.
I have therefore now also asked CWaC Highways to look at the whole length of Cross Lanes to identify suitable traffic-calming measures, and I await their response.